Modern L-Shaped Kitchen Designs in India 2023
Kitchens, the heart of every Indian home, are undergoing a revolution. L-Shaped kitchen designs, with their ingenious layout and streamlined aesthetics, are at the forefront of this transformation. At Homes4India, we channel our passion for design and functionality into creating stylish, modern L-Shaped kitchens that are as practical as they are elegant.
1. Open Plan Layout
The L-Shaped kitchen design is a perfect fit for open plan living. It naturally delineates the kitchen from the living area, maintaining an open, airy feel. By incorporating an island or a breakfast bar, the space can become a social hub, blurring the lines between cooking and entertaining.
2. Corner Storage Solutions
The corner, often a wasted space, is maximized in L-Shaped kitchens. Innovative solutions like carousel units, LeMans pullouts, or Magic Corners make corner storage convenient and efficient. These clever mechanisms ensure that every inch of the kitchen is utilized, keeping your countertops clutter-free.
3. Adaptable to All Spaces
The beauty of L-Shaped kitchens lies in their adaptability. They fit perfectly into small apartments, offering ample workspace without cramping the area. In larger homes, they form a grand culinary stage, with the potential to incorporate additional features like an island or a dining nook.
4. Efficient Work Triangle
L-Shaped kitchens naturally lend themselves to an efficient work triangle – the sink, stove, and refrigerator each occupying one point. This layout ensures minimal steps while cooking, making the process quicker and more enjoyable.
5. Trendy Design Aesthetics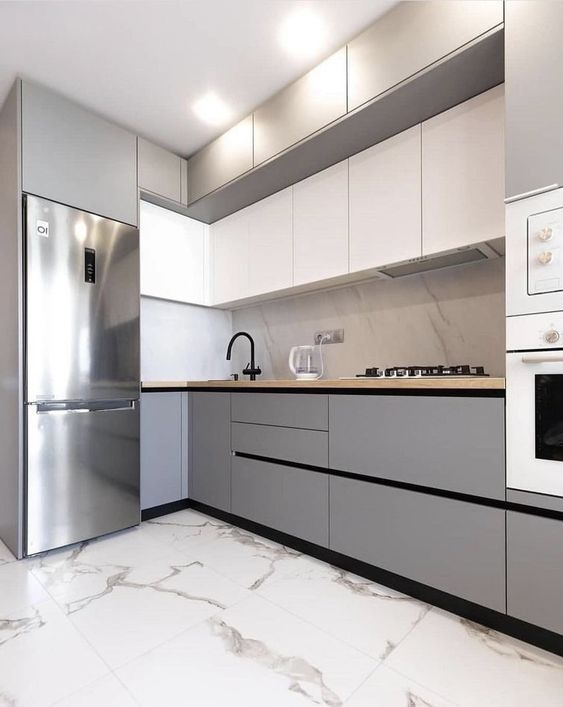 2023 brings a wave of new trends for L-Shaped kitchens. Think sleek cabinetry, handle-less designs, and a play of textures and colors. Matte finishes, smart appliances, and statement backsplashes also feature prominently, offering countless ways to personalize your kitchen.
Why Choose Homes4India for Interior Designs?
At Homes4India, we believe that your home should reflect your unique taste and lifestyle. Our team of skilled professionals brings together a profound understanding of design principles and an awareness of current trends to create spaces that are both functional and stylish. When it comes to L-Shaped kitchens, we leverage the layout's inherent advantages and enhance them with innovative solutions and personalized aesthetics. We are committed to delivering designs that not only meet your requirements but also exceed your expectations. Contact us today to turn your dream kitchen into reality.
Frequently Asked Questions
1. Is an L-Shaped kitchen suitable for my small apartment?
Yes, L-Shaped kitchens are highly versatile and can be tailored to fit spaces of all sizes.
2. How can I incorporate a dining area into my L-Shaped kitchen?
An island or a breakfast bar can double up as a dining area in an L-Shaped kitchen.
3. Can I fit a dishwasher or a washing machine in an L-Shaped kitchen?
Absolutely, L-Shaped kitchens can be designed to accommodate all modern appliances.
4. Is an L-Shaped kitchen efficient for cooking?
Yes, the L-Shaped layout naturally facilitates an efficient work triangle, making cooking easier.
5. How can I maximize storage in an L-Shaped kitchen?
Innovative corner storage solutions and vertical cabinetry can significantly increase storage in an L-Shaped kitchen.
In conclusion, L-Shaped kitchens, with their blend of functionality and aesthetics, offer an appealing solution for modern homes. They strike a balance between efficient workspace and social hub, between personalized aesthetics and universal appeal.
As we navigate the exciting design trends of 2023, the L-Shaped kitchen stands out as a timeless choice, adaptable and stylish. It's not just about following a trend; it's about creating a space that works for you, a space that brings joy to the everyday routine of cooking.
With Homes4India, you are not just designing a kitchen; you are creating a space that resonates with your lifestyle, a space that truly feels like home.
More Blogs on Interior Designs
Unraveling the Mystique: Duco Paint vs PU Paints
Exploring 5 Trendy & Decorative Floor Seating Ideas
All pic courtesy: freepik.com & pinterest.com