Exploring Trendy & Decorative Floor Seating Ideas
Floor seating, the paragon of comfort and style, has been revitalizing living spaces with its eclectic charm. As the pioneers of interior design, at Homes4India, we embrace this trending concept, fusing traditional floor seating aesthetics with a dash of modernity.
Embrace the Ground-Level Glamour with these 5 floor seating design concepts
1. Cozy Corners: Cushions and Bean Bags
Creating an inviting corner in your home is as simple as amassing a heap of plush cushions or bean bags. Layer different sizes, shapes, and patterns to inject a burst of color and texture. This unpretentious approach to floor seating encourages relaxation and fosters a warm atmosphere, perfect for a reading nook or a cozy space for intimate conversations.
2. Majestic Majlis: Middle Eastern Inspiration
The Middle Eastern Majlis style seating, characterized by low sofas and cushions arranged against the walls, exudes regal elegance. Richly embroidered fabrics, ornate carpets, and a low central table complete the look. This floor seating idea transforms your space into a royal court, perfect for entertaining guests or enjoying a relaxed family gathering.
3. Zen Zone: Japanese Tatami Rooms
The minimalist aesthetics of Japanese Tatami rooms offer a serene retreat from the clamor of daily life. The simplicity of Tatami mats, combined with low wooden tables and floor cushions, fosters an atmosphere of tranquility and mindfulness. This floor seating style is ideal for creating a meditation room or a tranquil home office.
4. Bohemian Rhapsody: Eclectic Floor Seating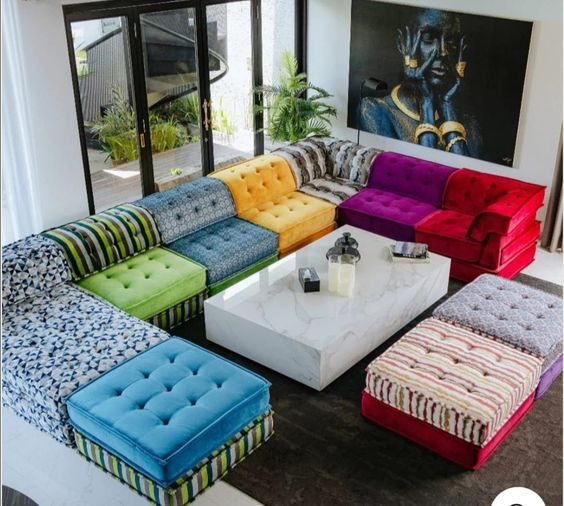 Embrace the uninhibited spirit of Bohemian decor with an eclectic mix of floor pillows, poufs, and rugs in a riot of colors and patterns. This style celebrates diversity, making every piece a unique conversation starter. It's a fantastic floor seating idea for those who love to break the rules and express their individuality.
5. Alfresco Elegance: Outdoor Floor Seating
Transform your patio or garden into a chic lounge with outdoor floor seating. Use weather-resistant cushions, rugs, and a low table for an alfresco dining experience. This floor seating idea brings a touch of luxury to your outdoor space, making it perfect for sunset dinners or star-gazing nights.
Why Choose Homes4India for Interior Designs?
At Homes4India, we believe your home is a canvas for your personality. Our team of dedicated professionals, armed with a keen eye for design and an understanding of the latest trends, is committed to crafting spaces that are not just aesthetically pleasing but also resonate with your lifestyle. Whether it's floor seating ideas or holistic interior design solutions, we offer a curated experience tailored to your needs. We value your dreams and strive to transform them into reality with our expertise and passion. Reach out to us today, and let's create magic together.
Frequently Asked Questions
1. Can floor seating be combined with traditional seating?
Yes, a combination of floor and traditional seating can create an engaging layered look.
2. Is floor seating comfortable for all ages?
Floor seating can be adapted for comfort across ages, with the right choice of cushions and support.
3. How to maintain cleanliness with floor seating?
Regular vacuuming, fabric cleaning, and a no-shoes policy can ensure cleanliness.
4. Can floor seating work in small spaces?
Absolutely, floor seating can make small spaces look larger and more inviting.
5. How to choose the right floor seating style?
Choose a style that complements your existing decor and aligns with your lifestyle needs.
In conclusion, Floor seating is not just a decor trend; it's a celebration of comfort coziness, and creativity. It allows you to break free from the traditional confines of home decor and infuse a touch of uniqueness into your living space. Whether it's the playful charm of bean bags, the regal elegance of a Majlis, the serene simplicity of a Tatami room, the uninhibited vibrancy of Bohemian decor, or the luxurious comfort of outdoor floor seating, Homes4India is here to help you bring your vision to life. Our commitment to exceptional design, coupled with our dedication to customer satisfaction, makes us the ideal partner in your journey to create a home that's truly a reflection of you. With Homes4India, every square foot of your home can be transformed into a story of style and personality.
More Blogs on Interior Designs
Modern L-Shaped Kitchen Designs in India 2023
Unraveling the Mystique: Duco Paint vs PU Paints
All pic courtesy: freepik.com & pinterest.com