5 New False Ceiling Designs For Hall in 2023
A false ceiling, also known as a drop ceiling, is a secondary ceiling that is suspended below the main ceiling. It not only adds to the aesthetic appeal of a room but also helps conceal electrical and plumbing work. The false ceiling in the hall is one of the most critical design elements, as it sets the tone for the entire home.
With the constant evolution of interior design, false ceiling designs for halls have also undergone a transformation. In this article, Home4India design team elaborates on everything from traditional and simple designs to more elaborate and intricate patterns. There is a new false ceiling design for the hall to suit every taste.
List of Design Ideas for False Ceilings
Wooden False Ceiling
If you want to make your hall feel warm and inviting, false ceilings made of wood are a great choice. They are available in a variety of shades and patterns, making it easy to find one that complements the existing decor of your home.
Gypsum False Ceiling
Gypsum false ceilings are one of the most popular choices due to their versatility and ease of installation. They can be molded into different shapes and designs and are also ideal for homes with a minimalist aesthetic.
POP False Ceiling
POP false ceilings are made of Plaster of Paris and are an excellent option if you are looking to create a traditional or classic look in your hall. They are durable, easy to install, and come in a variety of designs.
Coffered False Ceiling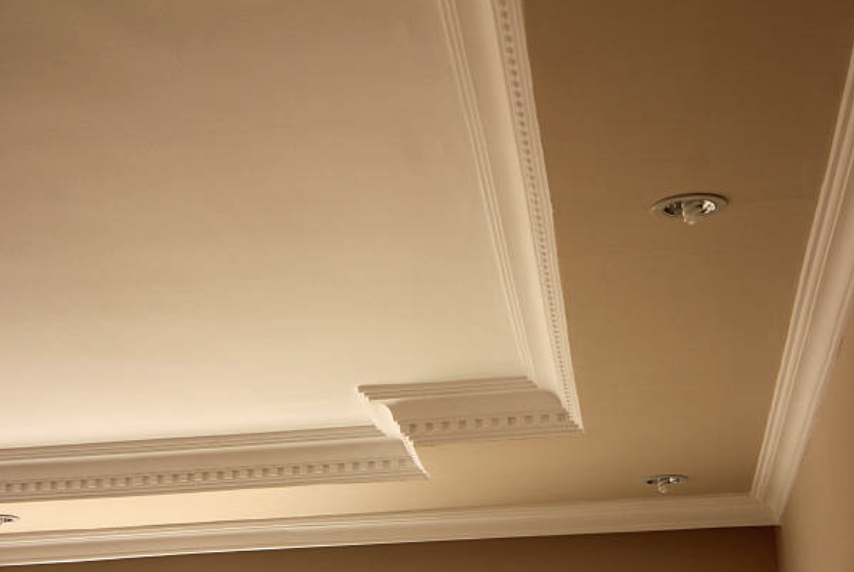 Coffered false ceilings are a perfect choice if you are looking to create a grand and sophisticated look in your hall. They consist of recessed panels that create a three-dimensional effect and add depth to the ceiling.
LED False Ceiling
LED false ceilings are a modern and innovative option that not only add to the aesthetic appeal of your hall but also serve a practical purpose. The LED lights add a warm and cozy ambiance to the room and are ideal for homes with a contemporary design aesthetic.
Why should you choose Homes4India to design your false ceiling?
At Homes4India, we understand the importance of a well-designed false ceiling in creating the perfect look for your hall. Our team of expert interior designers will work with you to create a design that not only enhances the look of your hall but also meets your functional requirements. With years of experience in the industry, we use only the highest-quality materials and employ state-of-the-art installation techniques to ensure that your false ceiling is both beautiful and durable.
With Homes4India, you can rest assured that you are getting the best possible service and results. Our team of experts will guide you through every step of the process, from selecting the perfect design to installation, to ensure that you are completely satisfied with the final product.
At Homes4India, we believe in creating spaces that reflect your personality and style. That's why we work closely with you to understand your vision and bring it to life with our expertise and attention to detail. Whether you are looking for a simple and elegant false ceiling design or something more elaborate and intricate, our team has the skills and knowledge to make it happen.
In addition to our commitment to excellence, we also offer competitive pricing, making it easy and affordable for you to get the false ceiling of your dreams. With our wide range of design options and flexible payment plans, we make it easy to find the perfect solution to suit your budget.
So why wait? Contact Homes4India, a widely acclaimed interior designing company, today and start elevating your hall with a beautiful and functional false ceiling. Our team is always ready to answer any questions you may have and help you create the perfect space for you and your family. Trust us to bring your vision to life and create a space that you'll love for years to come.
Frequently Asked Questions
How much does it cost to install a false ceiling in the hall?
The cost of installing a false ceiling in the hall can vary greatly depending on the type of design, material used, and the size of the hall. On average, it can cost anywhere from INR 60 to INR 250 per square foot.
Can false ceilings be used to hide electrical and plumbing work?
Yes, false ceilings are an excellent way to conceal electrical and plumbing work, keeping your hall looking clean and clutter-free.
Are false ceilings durable?
The durability of false ceilings depends on the material used. Gypsum and POP false ceilings are known for their durability, while wooden false ceilings may require more maintenance.
Conclusion
False ceilings are an excellent way to elevate the look of your hall and create a warm and inviting atmosphere. Whether you prefer a traditional design or a modern and innovative one, there is a false ceiling design to suit every taste. With the right design, a false ceiling can transform your hall into a stunning and elegant space that is sure to impress.
More Blogs on Interior Designs
8 Small Bathroom Ideas for 2023
8 Vastu Tips to Create a Beautiful Bedroom in 2023
All image source : freepik.com and pinterest.com