Adding a fresh coat of paint to the kitchen's cabinets and/or walls is an easy way to update its appearance. There is a wide range of colors you can use to paint your kitchen, depending on whether you prefer a white kitchen, a blue kitchen, or a neutral kitchen.
It's important to think about the kitchen's lighting, your personal style, and the room's layout when deciding whether to go with a tried-and-true shade or an unexpected paint color. For instance, if you have dark cabinets, choosing a satin aqua color can make the room feel more airy and open, while using glossy black for the kitchen island and walls can increase the sense of drama. While deciding on a kitchen paint color, you should also think about how it will go with your backsplash and other accessories.
Homes4India has some great suggestions for kitchen paint colors, and we've included five of them here. Get ready to have your mind blown and your heart warmed by the addition of a splash of color to your world (and your home).
Paint Your Kitchen a Comfortable, Inviting Color
Colors like white, gray, blue, red, yellow, and green are particularly well-suited to kitchens. There are a variety of effects that each of these colors can have on a space, but they can all be counted on to make the room feel more cozy and inviting.
Kitchens benefit greatly from the use of warmer colors like red, which is thought to stimulate the appetite. In the kitchen, red can be used on the walls or the cabinets, and its many tones make a striking statement.
Kitchens in Gray Colors Are All the Rage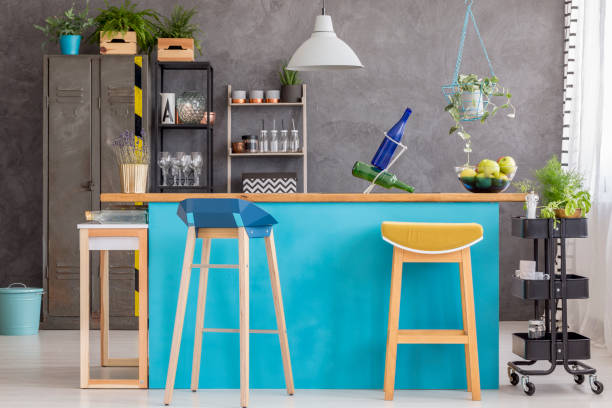 Many modern homes have made gray, a neutral color, the focal point. It's often written off as too chilly, but in the right shade, it can do wonders for a cooking space. Best of all, it works wonderfully as a kitchen's foundational color and complements a wide range of other hues. It can also be used as a beautiful accent to your cabinets or countertops.
Update: The Trend of Blue Kitchens
When it comes to kitchens, blue is another color that works well. Walls, cabinets, and even the ceiling would look better with lighter blue tones because they are more relaxing. Although it's a stimulating hue, blue can quickly become overwhelming if used excessively. Even though dark blues look great in kitchens, it's important to balance out the space with lighter shades of white, gray, or another neutral color to prevent the room from feeling too gloomy.
Color Scheme with Classic, Cheerful Yellow for the Kitchen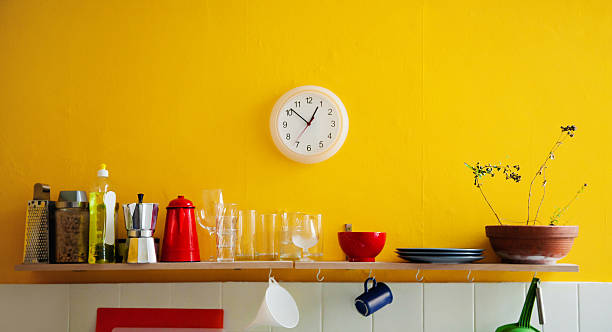 Yellow has the power to brighten any space, like the sun. Yellow is thought to make people hungry and also to have a calming effect that will make people who come into your kitchen feel happy and at ease. With its ability to reflect light, yellow is a good choice for smaller rooms, and it goes well with neutral tones like white and gray.
This "Green" Kitchen Is Organic and All-Natural Thanks to the Latest Trend
Similarly, green is a great color choice for the kitchen. There is a wide range of colors available, including white and wood accents that look great with mint and apple green. For those who aren't afraid to branch out, emerald green is a beautiful option. Use it as an accent wall, on cabinets, an island, or even the floor for a dramatic and energizing effect in the kitchen.
Looking for more interior design ideas? Have one of our expert interior designers get in touch with you now by simply requesting a callback.
We also encourage you to look through the rest of our posts for additional ideas for your home's decor.
More on Interior Designing
7 Tips for Adding Charm To Your Home's Lighting
5 Stylish Study Spaces for Children to Increase Concentration and Enjoyment
7 bedroom designs that are both inexpensive and simple to recreate.