Choosing a kitchen layout that works for you is essential whether you're in the market for a new house or just looking to spruce up your current one.
The design you choose will be heavily influenced by the dimensions of your kitchen and the layout of your home.
On the other hand, your family's aesthetic preferences and way of life should not be ignored.
Modern households favour open floor plans, which bring the outside in and make use of every available space.
As a result of this pattern, kitchens are increasingly being designed to be open spaces. Let's take a look at the most popular kitchen layouts and the homes that work best with them.
Distinctive Kitchen Plans and Designs
1. Kitchen with Peninsula Plans & Layout
There is an argument for classifying G-shaped kitchens as a distinct type, despite the fact that the term "peninsula kitchen" is used to describe them in some places. Using a G plan is not necessary when including a peninsula.
While a one-wall or L-shaped kitchen layout is standard in larger homes, the peninsula layout is becoming increasingly popular in smaller spaces like apartments and condos.
A kitchen peninsula has three sides that can be used as work surfaces and can be attached to a wall or an adjacent countertop. Extra storage and worktop space can be found in the lower cabinets and/or drawers that line its interior.  
2. Kitchen with One-Wall Plans & Layout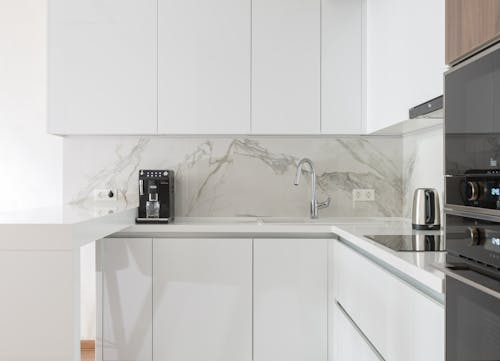 Such a kitchen layout is typical of smaller dwellings like apartments and some starter homes. 
Space-wise and financially, it's the most efficient option.  Due to their compact nature, one-wall kitchens reduce the time spent cooking by reducing the number of trips to and from the refrigerator.
One-wall kitchens with islands address the issue of insufficient storage while also serving to visually divide the cooking and dining areas. Learn more about our designs by clicking here.
3. Kitchen with Galley Plans & Layout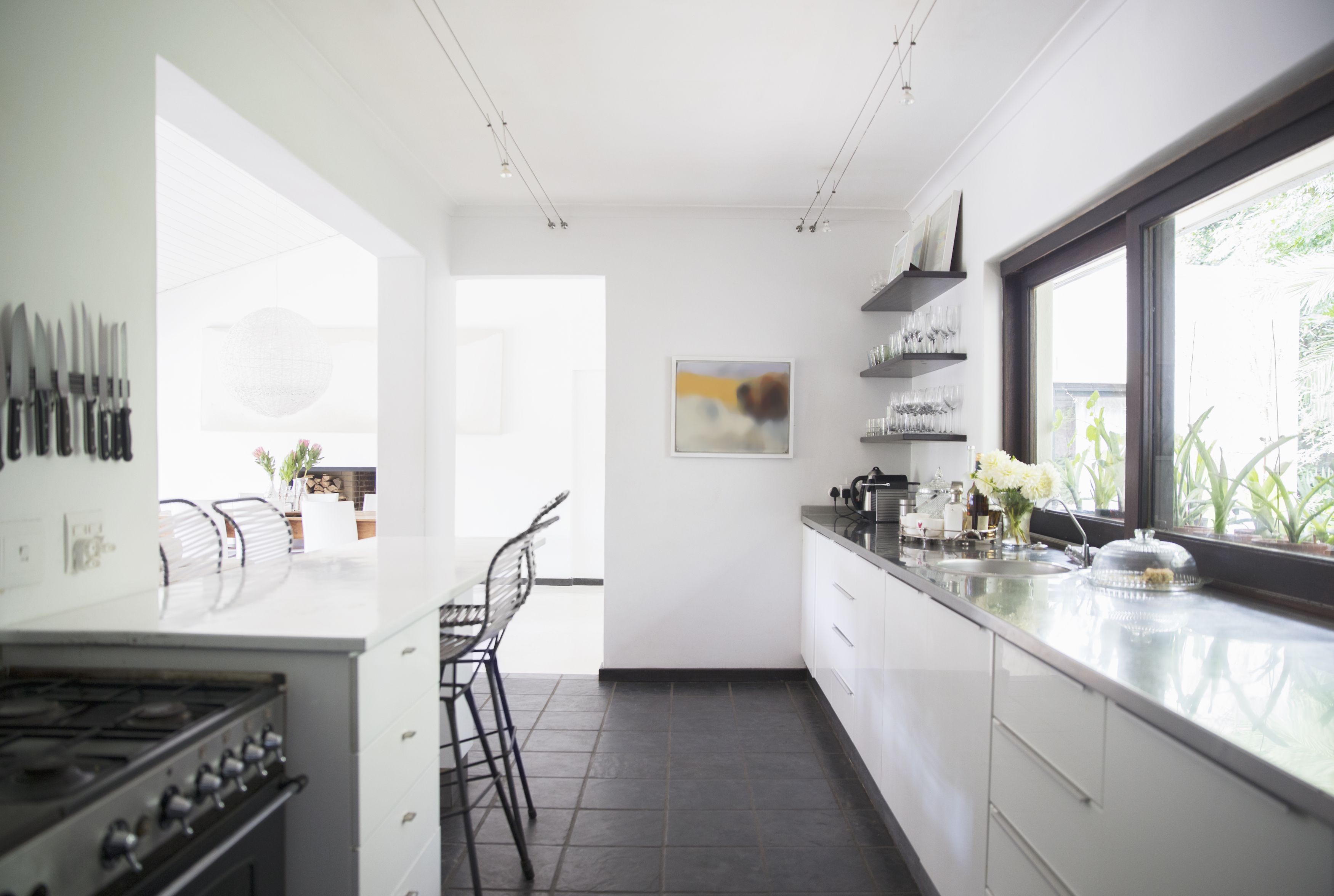 For convenience, the cabinets, counters, and appliances in a galley kitchen are typically placed on either side of a central passageway.

This layout makes the most of available square footage and reduces the amount of time spent on the move. Building or renovating a galley kitchen can be done for less money than other kitchen layouts.
These kitchens are the most closed off from the rest of the house and are typically found in smaller homes.If you're the kind of chef who likes to keep your mess out of sight and mingle once dinner is done, a galley kitchen is for you.
There may not be enough room for two cooks to work in a galley kitchen at the same time.
Only in a galley kitchen is a fixed island in the middle not a good idea. Nonetheless, a moveable island can be used to create extra counter and cabinet space
4. Kitchen with L-Shaped Plans & Layout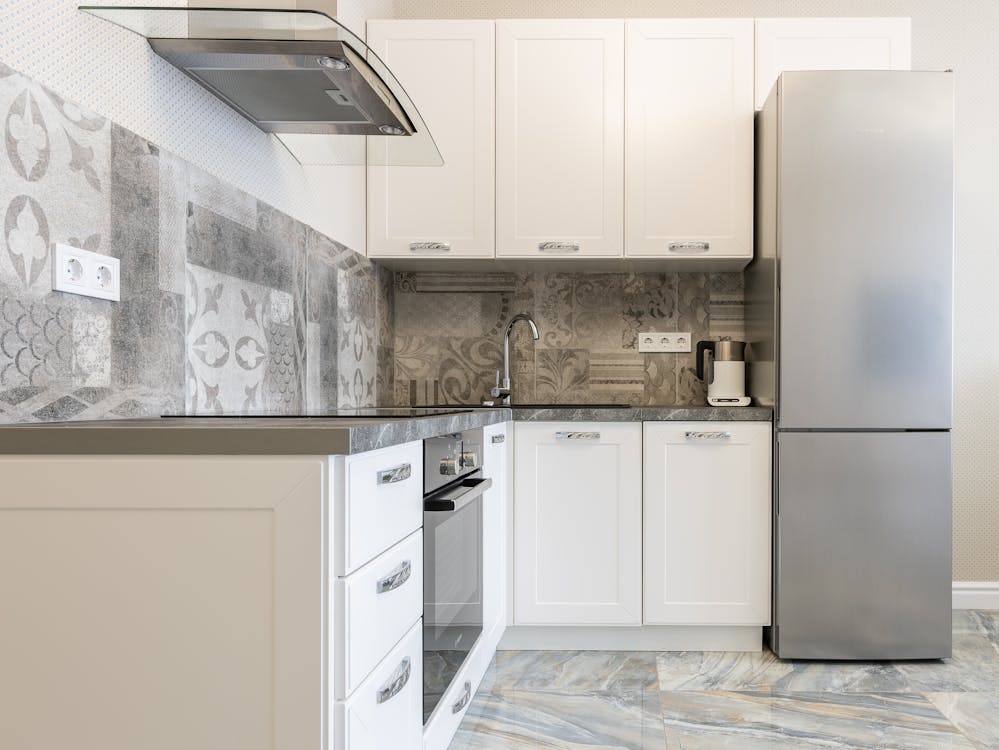 Regardless of the size of your home, this well-liked kitchen layout can be a perfect fit. The kitchen has two parallel walls that meet in the middle.
This makes a natural triangle for preparing food, cleaning, and putting things away. A well-organized L-shaped kitchen looks nice, feels spacious, and has plenty of cabinetry.
The perfect kitchen, for both cooking and hosting, is an L-shaped kitchen with a central island.  Double L-shaped kitchens are common in bigger homes because they have two separate work triangles.
This gives you twice as much room to store and prepare food.  
5. Kitchen with U-Shaped Plans & Layout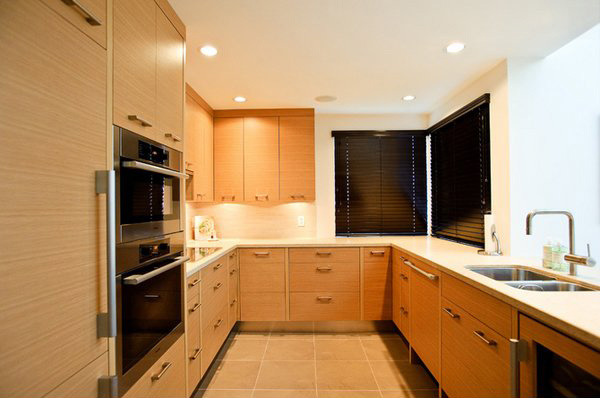 U-shaped kitchens use three walls next to each other to hold a lot of storage space and a number of work islands for cooking.
In most cases, you won't have to take more than a couple of strides to get from one side to the other, and appliances will be neatly tucked away.

Putting an island in the middle of a large U-shaped kitchen can make it much more convenient to get to all of the different areas of the kitchen.
Kitchen Plans, Designs & Layouts: Which is the Best?
The question then becomes, "What is the ideal kitchen layout?" … It's the one that suits you best.
Which kitchen layout is best for you will depend on things like the size of your home and family, your budget, and how and what you like to cook with. 
Is home cooking typically your preferred method of meal preparation? Kitchen layouts in the L-shape and the U-shape can be good options.
If you like to host dinner parties and other gatherings frequently, you should consider a G-shaped kitchen, which combines elements of an L-shaped and a U-shaped layout with an island.
If there are multiple cooks in the household, a U-shaped kitchen with an island or, if there's enough room, two islands may be the best option. 
However, if you rarely stay in and prefer to eat out, a kitchen with only one wall may be the best option for you.
Perhaps a galley kitchen is more your style, with its narrow layout and separation from the rest of the house. The variety of kitchen layouts means that there's sure to be one that works for your home.
Whether you're looking for a new home in Thane, Mumbai, Navi Mumbai, or anywhere else in India, Homes4India has you covered with a wide range of design options and construction services. 
Call us today for the best home interior designs. 
Further Reading
5 Stylish Study Spaces for Children to Increase Concentration and Enjoyment
How to make a Vastu Positive Home – Entrance, Living Room, and Bedroom
The 5 Most Beautiful Minimalist Dining Rooms