7 Elegant Partition Designs between Living and Dining Rooms
The living room and dining room are two of the most important spaces in any Indian home. They are where family and friends gather for meals, entertainment, and relaxation. However, in many homes, these two spaces are not separated, leading to confusion and lack of privacy. That's why it's important to create a partition between the living room and dining room to clearly define each space. In this article, Homes4India shares 7 partition designs between living and dining rooms for Indian homes.
List of Ideas
Glass Partition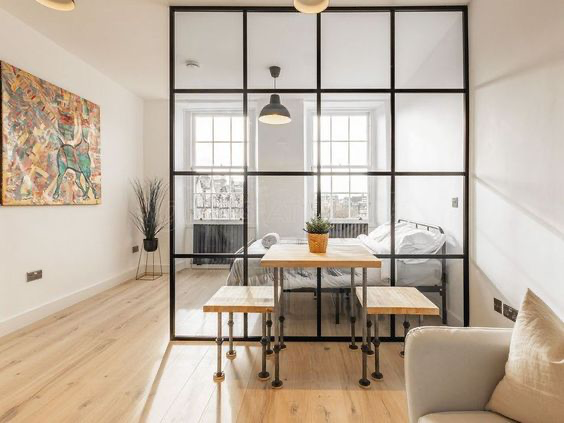 A glass partition between the living and dining room is a great option for those who want to create a sense of separation while still allowing light to flow freely between the two spaces.
Glass partitions are sleek, modern, and versatile, and they come in a variety of styles and designs. They can be clear or frosted, depending on your preference, and they can be framed or frameless.
Folding Door Partition
A folding door partition is another option for creating a separation between the living and dining room. These partitions are made up of multiple panels that can be folded inwards or outwards, depending on your needs.
They are perfect for those who want the flexibility of an open space, but also want the option of privacy when needed.
Sliding Door Partition
A sliding door partition is similar to a folding door partition, but instead of panels that fold inwards or outwards, they slide along a track. Sliding door partitions are a great option for those who want a sleek and modern look, and they work particularly well in smaller spaces where a swinging door may take up too much room.
Bookcase Partition
If you're a book lover, a bookcase partition is the perfect way to create a separation between your living and dining room. Not only does it provide privacy, but it also serves as a functional storage solution.
You can choose a bookcase with open shelves, or one with cabinets and drawers to hide clutter.

Wood Partition
A wood partition is a classic option for separating your living and dining room. There are many different types of wood that you can choose from, including oak, teak, and mahogany, each with their own unique look and feel.
Wood partitions can be carved, painted, or stained to match the decor of your home, and they provide a warm and cozy feel.
Curtain Partition
A curtain partition is a simple and cost-effective way to create a separation between your living and dining room. You can choose from a variety of fabrics and patterns, depending on your style and taste.
Curtains are easy to install and can be changed out easily if you want to switch up the look of your space.
Plant Partition
If you want to add some natural elements to your living and dining room, a plant partition is a great option. You can use tall potted plants to create a natural barrier between the two spaces, or you can create a living wall with trailing plants.
Not only do plants provide a natural separation, but they also help to purify the air in your home.
Why should you choose Homes4India to design your home?
At Homes4India, an interior designing company, we specialize in designing living rooms and dining rooms for Indian homes. Our team of experts understands the unique needs of Indian families and we work closely with our clients to create spaces that are functional, beautiful, and comfortable.
We take into account the size and layout of your home, as well as your personal style and taste, to create a customized design that fits your needs and budget. From choosing the right partition design to selecting the perfect furniture and decor, we handle every aspect of the design process to ensure that your living and dining room are perfect for your needs.
Our team of experienced designers uses state-of-the-art technology and software to create 3D renderings of your living and dining room, allowing you to see exactly what your space will look like before we even begin the construction process. This ensures that you are completely satisfied with the home design before any work is done.
We also pride ourselves on our attention to detail and commitment to quality. We use only the best materials and work with skilled craftsmen to ensure that every aspect of your living and dining room is of the highest quality. We also offer a range of services, including project management, to ensure that your project is completed on time and within budget.
Conclusion
Choosing the right type of partition between your living room and dining room is important for creating a sense of privacy and separation. Whether you prefer a sleek and modern glass partition or a warm and cozy wood partition, there are many different options to choose from.
At Homes4India, we specialize in designing living rooms and dining rooms for Indian homes, and we can help you choose the perfect partition design for your space.
Contact us today to know more about elegant partition designs.
Frequently Asked Questions
Can I remove the partition later if I change my mind?
Yes, many partition designs can be easily removed or changed if you decide you want to open up the space again.
Do I need a professional to install the partition?
It depends on the type of partition you choose. Some, like a curtain partition or a plant partition, can be easily installed by the homeowner. Others, like a glass or wood partition, may require professional installation.
More Blogs on Interior Designs
What Are The Types of Kitchen Sinks Available In India?
6 Amazing TV Showcase Design Ideas for Your Living Room
All pic courtesy: freepik.com & pinterest.com