Best Kitchen Cabinet Design Ideas for 2023
The kitchen is the heart of any home, and it is where families come together to cook, eat, and socialize.
In India, the kitchen holds a special place in the heart of homeowners, as it is not just a place to prepare food but is also a space where family and friends gather. That's why it is essential to have a kitchen that is not only functional but also aesthetically pleasing. One of the most crucial aspects of any kitchen is the cabinets.
They serve as both storage space and a decorative element, so it is important to choose the right design that fits your needs and complements your home's overall aesthetic.
As we enter the new year of 2023, it is time to take a look at some of the latest and greatest kitchen cabinet design ideas. Whether you're remodelling your kitchen or starting from scratch, these design ideas will help you create a kitchen that is not only functional but also beautiful. So, without further ado, let's dive into the world of kitchen cabinet design ideas for 2023!
Design ideas for kitchen cabinets
Here are a few design ideas that you can consider for your kitchen cabinets:
Dual Tone kitchen cabinet design
Dual-tone cabinets are a great way to add some visual interest to your kitchen. You can choose to paint the top cabinets one color and the bottom cabinets another, or even choose two different shades of the same color for a cohesive look.
Textured Finish for kitchen cabinet design
Textured finishes are a great way to add depth and dimension to your cabinets. From rough-hewn wood to embossed metal, these finishes add a unique touch to your kitchen, making it stand out.
Sleek and Minimal kitchen cabinet design
For those who prefer a more understated look, sleek and minimal cabinets are the way to go. With clean lines and a focus on functionality, these cabinets are both practical and stylish.
Rustic kitchen cabinet design
If you're looking for a warm and inviting kitchen, rustic charm may be the way to go. Whether you opt for rough-hewn wood or distressed metal, these cabinets will add a touch of rustic charm to your kitchen.
Glass Fronts kitchen cabinet design
Glass front cabinets are a popular choice for those who like to display their kitchen essentials. Whether you choose clear glass or frosted, these cabinets are both functional and stylish.
Open Shelving kitchen cabinet design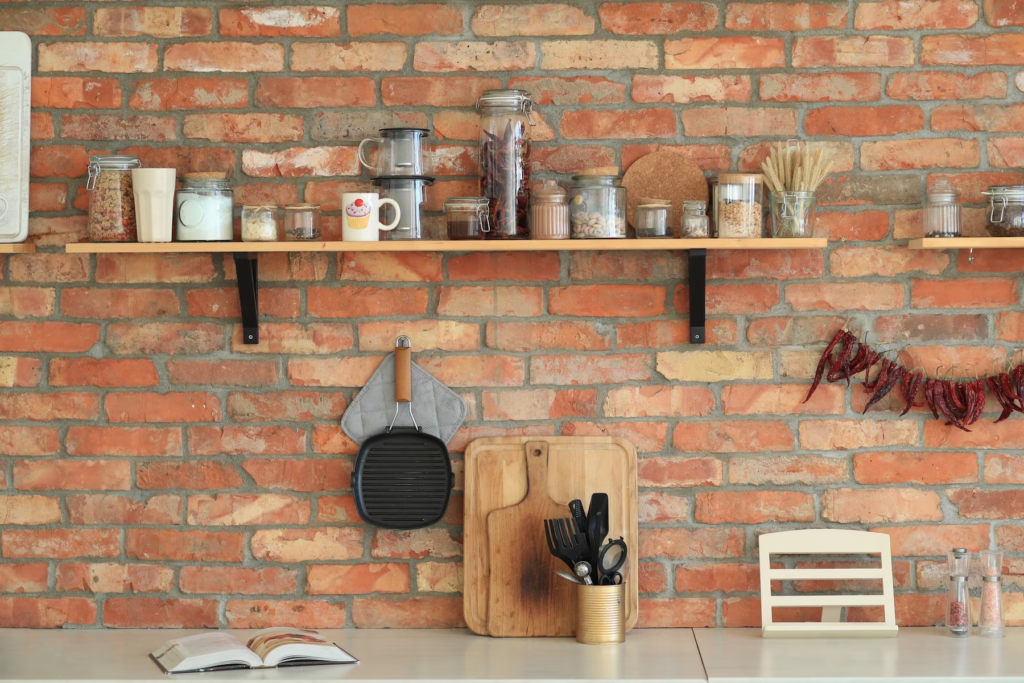 Open shelving is a great way to add some visual interest to your kitchen. You can choose to have open shelving instead of traditional cabinets or have a combination of both for a unique look.
Why should you choose Homes4India to design your kitchen?
When it comes to kitchen cabinet design, you want to work with an interior designing company that has a track record of delivering high-quality results. That's why you should choose Homes4India for all your kitchen cabinet design needs. Our team of experienced designers is committed to delivering exceptional results and creating a space that you'll love.
At Homes4India, we understand that every kitchen is unique and that's why we take a personalized approach to every project. We work with you every step of the way, from initial design to final installation, to ensure that the end result is exactly what you had envisioned. Our designers use the latest technology and design tools to create accurate and detailed plans, so you can see exactly what your kitchen will look like before the work begins.
We at Homes4India, one of the best interior designing services in India, only use the highest-quality materials and finishes, so you can be confident that your kitchen cabinets will look beautiful and last for years to come. Our team of skilled craftsmen takes pride in their work and is dedicated to delivering results that exceed your expectations. If you're looking for the best kitchen cabinet design company, look no further than Homes4India. Contact us today to schedule a consultation and discover why we're the premier choice for kitchen cabinet design in India.
Conclusion
In conclusion, the design options for kitchen cabinets in India are truly endless. From bold colors that make a statement to rustic charm that adds warmth and texture, there is something for everyone.
No matter what your personal style may be, these kitchen cabinet design ideas for 2023 are sure to inspire and excite you. Whether you're looking for a traditional look that is timeless or a contemporary design that is on-trend, there is a kitchen cabinet design idea that will perfectly suit your needs and taste.
It's important to consider your own lifestyle and preferences when choosing a kitchen cabinet design. For example, if you're someone who loves to cook and entertain, you may want to choose cabinets that offer ample storage space and functionality. On the other hand, if you're someone who values simplicity and minimalism, you may opt for sleek and streamlined cabinets. The key to creating a successful kitchen is to strike a balance between form and function.
More Blogs on Interior Designs
Amazing Master Bedroom Ideas for Your Home in 2023
6 Beautiful Bathroom Tiles Designs for 2023
Best Small Kitchen Design Ideas in India 2023
Images source: freepik.com