Best Small Kitchen Design Ideas in India 2023
The kitchen is, without a doubt, the single most important room in any house, and we can all agree on that.
There is no such thing as a "bad cook," and a well-designed kitchen is a must-have for anyone who prepares food, even if it's as simple as toast with mayonnaise and mustard.
On the other hand, because apartment sizes are getting smaller, it's getting harder to find newly built houses that have kitchens that are adequately sized for cooking.
How can you make a small kitchen decorated in an Indian style feel bigger?
Let's take a look at some of the different possibilities that the design team at Homes4India has compiled for you.
List of best small kitchen design ideas
1. A Multipurpose Addition to a Compact Kitchen Layout
You might think your kitchen is too small. However, by constructing a separate utility area at the opposite end of the kitchen, you can keep the parallel layout (ideal for a compact Indian-style kitchen design). This not only makes the kitchen appear longer but also provides more usable space for food preparation and cooking.
2. Compact Modular Kitchen That Makes the Most of Its Vertical Real Estate
We recommend maximizing vertical space when possible. You should save this page if you're interested in an Indian kitchen layout. The ability to make full use of available wall space by installing cabinetry is a great space-saving measure for a kitchen of any size. In addition to making the ceiling appear higher, this technique also frees up valuable living space on the ground. A subtle contrast between light and dark wood tones will make the room feel larger.
3. Small Modular Kitchen Layouts: L-Shaped and C-Shaped Options
You can make more usable space by making more than enough room for a C-shaped counter, which greatly expands the work area.
4. Conveniently Designed Small Modular Kitchens
The use of a light and airy color palette can make even a small kitchen appear much larger. Keep in mind that using lighter colors in a small room can make the space seem larger.
5. Kitchen Layout for Senior Citizens
The needs of the elderly couple can be met by making the kitchen brighter and less dark. To prevent nasty kitchen mishaps, the cabinets can be outfitted with easy-to-grip handles, and the floor can be made anti-skid.
6. The Benefits of a Parallel Kitchen Layout for a Limited Room
If you're searching for Indian-style modular kitchen design ideas, a parallel layout is a safe bet. A parallel kitchen, despite its compact size, offers a wealth of cabinet space.
7. Vastu-Friendly Modular Kitchen Layout for a Small Space
Creating a home that is in harmony with Vastu principles is well-known for its beneficial effects. Even small spaces can benefit from following vastu principles. Yellow, representing sunshine and fire, is an auspicious hue for an Indian kitchen.
8. Modest Kitchen Layout Tailored Particularly for Extensive Indian Cooking
Even though Indian cuisine is delicious, it often leaves unsightly stains. It is possible to adapt a small kitchen designed in the Indian style to the specific needs of Indian cooking. Even though an all-white scheme will make your kitchen seem more spacious, it's a good idea to use a dark stain-resistant paint on your lower cabinets to protect them from curry and other potential spills.
9. How to Conceal Gadgets in a Tiny Kitchen (and the Appliance Garage You Need)
If your kitchen is on the smaller side and you're looking for some creative ways to hide the clutter, this is your best bet. You can make the most of the vertical space in your kitchen by installing a peninsula, a storage area beneath it, and open shelves on either side to store your dishes, pots, and pans, as well as your preferred spices and seasonings.
10. A parallel kitchen design that makes the most of a small space
A parallel kitchen is best for small spaces because it can turn a narrow area into one that is very useful. When electric appliances are brought into this parallel universe, the fun really starts.
11. Small-Space White Kitchens with Minimal Upkeep
Contrary to popular belief, a white kitchen is easy to maintain. An all-white kitchen, designed in the Indian style, can give the illusion of space and light and is therefore a good option for small apartments. Installing a stone countertop that won't stain and acrylic cabinets that won't scratch is all it takes to make your kitchen easy to clean.
12. A warm and inviting layout for a small cooking space.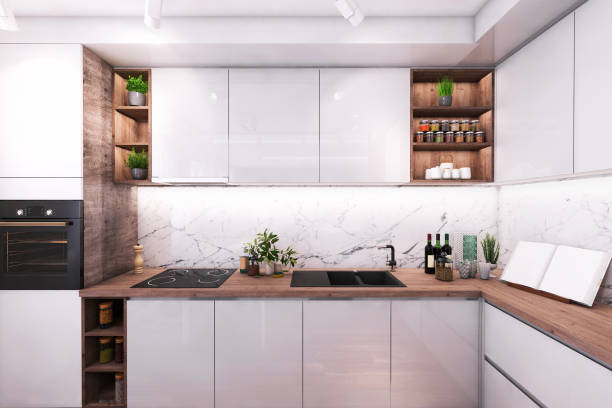 When designing a small modular kitchen, it's best to make use of tall appliances, lower cabinets, narrow spice racks, and a combination of open and closed upper cabinets. You might be surprised to find that a small kitchen has all the storage space you need.
Tips to build an efficient kitchen in a small home
Small kitchens can benefit greatly from having movable storage options like bar carts and kitchen carts.
In a limited space, an open kitchen design may be the best option. Maintaining a spotless kitchen at all times of the day is especially important because of the high visibility of this area.
Put in some decorative pendant lights to brighten up your tiny kitchen. Your kitchen will seem smaller if more light is allowed in. Put in under-cabinet lighting so you can find what you need quickly.
Choose a sink that can fit into a tight space. A corner sink can fit into a kitchen with a U- or L-shaped countertop, making it a good choice for limited space. Get a large sink so that dirty dishes don't look so bad in an otherwise open kitchen.
When choosing kitchen floor tiles or kitchen slabs, stick with lighter colors. Lighter colors attract more dirt, but they also put more of an emotional burden on people to keep their homes tidy. Darker hues have the opposite effect. If your kitchen's flooring, sink, or countertop are all dark colors, you might be tempted to clean them less frequently than they need to be if you can't see the dirt and grease.
If you don't have a lot of counter space in your kitchen, a stepladder or a tall stool will come in handy for reaching those upper shelves.
Larger kitchen tools and utensils necessitate more spacious cupboards. Be sure to take into account the available space in your home when shopping for kitchen supplies. Just because you think you can store something more conveniently in, say, your bedroom rather than the kitchen doesn't mean you should.
Overcrowding a cramped kitchen with too many appliances and tools makes cooking a challenge. Consider this before purchasing a new coffee machine. You should only buy things that are absolute necessities.
If a modular kitchen cannot be installed due to a lack of space, a simple pot rack will do. It is a better option for wet dishes and pots.
It's not a good idea to put the fridge in a cramped kitchen. Your refrigerator will not only add to the heat produced in your kitchen, but it will also take up valuable floor space and restrict your mobility. Keep it in the lobby or the living room instead.
FAQs on Small Kitchen Design Ideas
What Is the Best Design for a Small Kitchen?
For a small modular kitchen, a U-shaped layout is best because it gives you a lot of space to work and a lot of cabinets. If you're working with a restricted area, a parallel kitchen layout may be the best option for you.
How can I make my small kitchen look nice?
A small kitchen can have an elegant layout by using vertical storage, hiding counter space, putting storage in corners, and making the most of cabinet space.
What Colour is best for a small kitchen?
If you want to give the impression of more space without sacrificing style, white is your friend. Light is the key to making any room seem larger, and whites reflect the most light. As a result, it's a great choice for a modest kitchen of any size. In addition to emphasizing the room's sophistication, white paint helps the walls fade into the background.
How Can Homes4India Help You with Small Kitchen Designing ?
So, the next time you are looking for small kitchen design ideas in Indian style, don't forget to check out these chic and stunning Homes4India small kitchen ideas, hand-picked by us!
Thank you for reading our suggestions; We hope they were helpful. Look no further if exquisite interior design is what you seek. Book an online consultation with Homes4India today.
Have any thoughts or suggestions you'd like to share with us? We're all ears! Drop us a line at enquiry@homes4india.com
More Blogs on Interior Designs
Trendy TV Unit Design for Main Hall in 2023
Best Kids Room Design Ideas in 2023