Trendy TV Unit Design for Main Hall in 2023
Modern TV stands or entertainment centers are often quite big and can take up a lot of floor space in a living room, just like most other pieces of furniture. Not only does it have storage space that is useful, but it also looks nice. They work particularly well as a focal point in spacious open-floor plans.
When it comes to choosing a TV stand, everyone has their own preferences and individual style. In recent years, people have been looking for TV cabinets with simple, modern designs that come in a range of sizes that are easy to fit in today's small homes. The most cutting-edge TV sets on the market are a reflection of this trend.
Whether you're starting fresh in a new place or just want to try out some different looks, the most important thing is to incorporate your own sense of style. This is true even if you're thinking about incorporating a sleek, contemporary TV wall unit or TV unit glass design. Designing a TV stand or entertainment center should complement your existing decor.
Homes4India has compiled a list of the best entertainment TV panel designs for 2023
List of TV unit design fоr the hаll
The heart of your house is the hall or living room. Make this area cheerful and comfortable for your guests. Maybe you'd rather have something easier and more relaxed. Let's check out some contemporary TV stand designs for your living room.
1. A TV stand made of laminated wood for Hall
In contrast to other materials, wood retains its beauty and value over time. It looks great against neutral walls and is, therefore, a popular choice among many Indians looking for a TV stand for their living room or entryway made of wood. It has the power to liven up even the most drab of living spaces.
This wooden laminate stands out against the neutral-colored walls. The TV is in a sleek wooden floor cabinet that matches the room's overall style, which also has a white TV stand and grey accessories.
2. Соntemроrаry TV unit design fоr the hаll 2023
If you prefer modern and minimal TV stand designs, then the contemporary style is for you. Take a look at this uncomplicated black and white silhouette that adds functionality to the design.
A TV set against the dark walls would look great. You can add a splash of color to this otherwise monochromatic area by incorporating some freshly cut flowers.
3. Living room TV cabinet design in white
White will help you unwind after a long day by giving your living space a calming air. Check out this white TV set. The flooring is a perfect compliment to the white cabinetry.
4. A TV stand that is both rustic and sophisticated, for your hall
Are you drawn to the rustic aesthetic? Then go with briсk wаlls. A bare brick wall is the quintessential symbol of rustic charm. Add some рlаnts and accessories to complete your TV unit design!
It's true that the floor cabinet is out of the ordinary, but the backdrop is aesthetically pleasing and would look great in a room with a television. The illustration demonstrates how well the wood complement the other embellishments. As an added bonus, the plаnts bring this place to life!
5. TV panel designs with a neutral brown color scheme
Brown is the quintessential neutral, working beautifully in any setting. The use of shades of brown in residential design and decorating is experiencing something of a renaissance at the moment. This shade makes the space feel more substantial and bright.
If you'd prefer not to have any bold splashes of color in your living space, a brown TV panel is a great option.
List of bedroom TV cabinets
A bedroom television is perfect for watching shows while snuggled up in bed. But the TV cabinet designs in this room should be more subtle and individual. Let's take a look at some of the most up-to-date pictures of TV units for bedrooms in the year 2023.
1. Latest trends in TV wall units for the Bedroom
Designs for in-wall televisions can be both straightforward and luxurious. Your simple built-in entertainment unit can become the focal point of your bedroom with just a few adjustments.
Take a look at the sleek TV stand design we've included. The reflective wall really brings out the best in this layout.
2. Bedside TV stand with a minimalistic design
One's bedroom doesn't have to be a haven of opulence for everyone. Just remember to keep things classy and understated. Are you curious as to how? Take a look at this stylish TV stand for your bedroom. The basic oak TV stands come with drawers for storing all of your favorite CDs and cassette tapes. The deep gray tiles and neutral walls bring the entire design together beautifully.
3. Bedroom TV stand with a compact design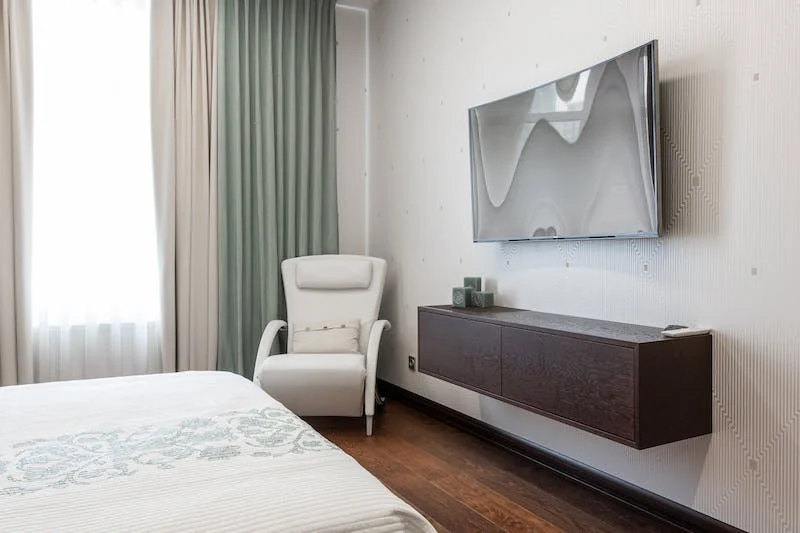 Does your apartment feel claustrophobic? This should not prevent you from designing an innovative, yet functional, simple LED panel design for a small bedroom. Just mount the TV on the wall vertically, and you're all set! Look at how the neutral walls, windows, and ceiling elevate this simple and easy style.
4. Floating TV cabinet is a contemporary take on the traditional bedside cabinet
This is another great option for fitting modern television sets into compact living quarters. A better solution than cluttering the floor is to install floating cabinets. Put the finishing touches on your custom TV stand design by adding your preferred accessories. You can tell that your TV stand is cutting-edge because of the contrasting wall in the background.
A Design Checklist of Modular TV Setups
If you don't have time to look through phone books and directories for suitable furniture, consider purchasing a TV stand module, which is readily available in a wide range of colors and configurations. Some of our ideas are listed below.
1. Multi-purроse TV cabinet designs for living room
Where will you keep your video games and DVDs? Large TV cabinets with lots of compartments are a wise investment. They are available in a wide variety of stylish patterns and can be easily applied to walls to make any room feel more lively.
The lighting and glossy surface of this living room make it feel more open and inviting. There's enough room to keep all your electronic devices, movies, and music albums safe. In addition, you can incorporate it into a bedroom LED panel layout.
2. Stylish black contemporary TV cabinet for the living room.
An old-school TV panel design in black is always a safe bet. As a color, black conveys a sense of maturity and refinement. This helps to maintain a sense of calm and mystery in the space. In doing so, it creates the impression that the space is much larger than it actually is. This color television screen will make your living space feel more open and modern.
These classic black floating TV cabinets will add much-needed elegance to your living room. Put together some of your most impressive works of art and you'll have a TV cabinet that's as good as it gets.
3. Contemporary gypsum low-cost TV unit designs for hall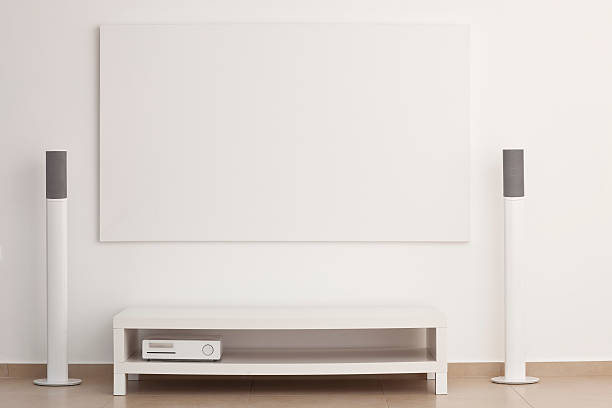 The most recent trend in TV unit design is the use of gypsum boards. Look at how well the contrasting tan walls and white gypsum board work together. The planters and vanes also contribute greatly to the overall aesthetic of this contemporary TV stand.
4. Wall-mounted TV with a floating panel
A TV panel like this one can be used to store even more media. The wall-mounted TV and its accompanying floating shelves create a neat, sophisticated aesthetic. These bookcases are a great way to update the look of your space. Floating shelves, moreover, never go out of style.
5. TV stand design with wooden furniture
It's no secret that wooden furnishings and accents are all the rage in the world of modern interior design. The wooden cabinet will last for a very long time due to the wood's high durability. In addition, it's a sustainable material. It's simple and inexpensive to employ. Since wood comes in so many different tones, the sky's the limit when it comes to crafting your ideal television panel.
6. LED-Backlit LCD TV
With the rise of entertainment platforms on the internet came a widespread adoption of LED lighting, and ever since then, almost every room has had at least one LED light fixture installed. I
f you're going to put them to use in your living room, you might as well use them to improve the ambiance of your television set. When lit, it not only adds to the room's ambiance but also serves as a stylish design element. It just enhances the coolness level of your TV area.
7. TV storage design
If you have a lot of рriсеless аlbums and DVDs, you'll need storage. If you have a tight budget, you can invest in an industrial TV unit with plenty of storage space, such as the one shown. This wood cabinet will complement any decor and elevate your living room.
Thank you for reading our suggestions; We hope they were helpful.
Need help with Interior Designs ?
Look no further if exquisite interior design is what you seek. Book an online consultation with Homes4India today.
We also encourage you to look through the rest of our posts for more ideas for your home's decor.
Have any thoughts or suggestions you'd like to share with us? We're all ears! Drop us a line at enquiry@homes4india.com
More Blogs on Interior Designs
Best Small Kitchen Design Ideas in India 2023
Best Kids Room Design Ideas in 2023