Discover the finest sofa layouts for compact rooms.
Without a sofa in the living room, it just isn't a living room. When it comes to the level of coziness in your space, it's a must-have. It serves a practical purpose, but it also serves as the room's centerpiece and a place to hang out with friends and family.
You and your friends or significant other gather on the couch to watch a movie or play a board game and have a good time. So, even if their living area is limited in square footage, homeowners will still seek out couch ideas for small living rooms.
Since the rising cost of real estate has resulted in smaller living quarters for city dwellers, functional furniture is more important than ever. Your room may look awkward and disorganized if you have a traditional, cumbersome sofa. So, even if you have a modest living room, Homes4India has ideas for stylish sofas that won't feel cramped.
Keep reading to find out more.
Double-sided sofa is perfect for apartments with limited space
Choose a sofa that converts into a bed if you'd like your living space to serve multiple purposes. Gather around this couch with loved ones for some quality time together. Just pull out the bed, and you're all set if you have to host some unannounced guests at your house. With a quick rearrangement, your family room can serve as a spare bedroom. While the room's sleek table and overhead storage make it ideal for work, the room's versatility is what really appeals to modern city dwellers.
Metal furniture for a modern vibe
Do you like to change things up every so often in your living room? Don't be afraid to make a statement with a wrought-iron sofa. These are modern and will make a bold statement in your family room. The sleek design feels lighter to the eye, and the size is perfect for a small living room. It's versatile enough to serve as a loveseat or a mini-daybed when extended. The concealed space can serve as a seat or extra storage. The iron furniture and brick cladding accent wall lend a subtle industrial touch to the living room, making it look edgy and stylish.
Sofas With Concealed Storage Space For Small Living Rooms
The lack of available storage space is a significant disadvantage of the living area. Make your problems go away with this couch. The clean lines and compact design are appropriate for any size living room. There's plenty of room for you to neatly stack and arrange your garments and other necessities in the pull-out drawer below. You can store all of your books and trinkets in the book cabinet and the side cabinet, which both have a pull-out section on either side, freeing up the floor for more comfortable movement.
Modern Sofa to Kick Back and Unwind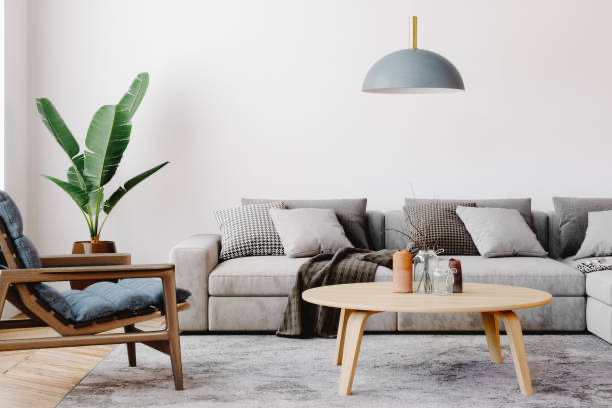 If your living space is limited, a daybed is another excellent sofa option. The minimalist design will look great in any family room and will help you unwind in the evenings and on the weekends. Set it up next to the window and sip your tea as the sun goes down. You can also take advantage of them for daytime snoozing or quick naps in the middle of a busy workday. The floral pattern on the cover gives the room a tropical vibe, and the blue brick cladding on the wall makes it feel more homey. The tall side table with a lamp on top makes reading comfortable, while the bookcase with its open shelves and chest helps you store and show off your library.
For a compact living space, a futon is the ideal sofa
Looking for a simple, modern look for your living room? If space is at a premium in your home, a futon is the best option for seating. The layout is small and cozy, taking up minimal space. Consider going with leg-supported pieces of furniture if your living space is limited. These are pleasing to the eye and will make any room seem larger. The mattress can be folded into a sofa or kept flat on the floor for a quick nap. The blue mattress is a welcome splash of color against the white furniture and neutral walls.
Now that you have seen some different options for couches in a limited space, you may be wondering how to best arrange your living room's furnishings to maximize the available area and light.
Looking for more interior design ideas ?
Have one of our expert interior designers get in touch with you now by simply requesting a callback.
We also encourage you to look through the rest of our posts for more ideas for your home's decor.
More Blogs on Interior Designs
5 Must See kitchen colour ideas: Home Decor
7 Easy Tips for Bedroom Design to Make the Perfect Getaway