The bedroom is the most personal space in your home because it is where you go to escape the hectic outside world. Considering how much time you spend there, it only makes sense to personalize the space so that it serves your needs and expresses your tastes. To help you create a bedroom you'll want to spend time in, HomesIndia has compiled seven helpful design tips.
#1 Tip for Bedroom Design: Your Privacy is essential
Hide your bedroom furniture, including your bed, your dresser, and your bathroom, from the entrance by creating a small foyer or mini hallway. Additionally, if you are relocating to a neighborhood with closely spaced homes, you should position your windows so that they do not face the homes of your neighbors.
Curtains, window treatments, or dividers can be helpful if you don't have control over the layout of your bedroom, though. Love that curtain fabric of yours, but it lets too much light through? Conceal your belongings by sewing in a lining of dark fabric. Curtains and window shades work well together to provide privacy and control over the amount of light that enters a room.
The key to a well-designed bedroom is making sure there is enough space to move around. You can easily get in and out of bed in a half-awake state without worrying about knocking over any furniture if you leave at least three feet of space between each piece of furniture in your bedroom.
#2 Tip for bedroom design: Make sure there's clear movement.
Keep the floor as clear as possible, as daily bedmaking necessitates access to all three sides of the bed. Both a built-in wardrobe and a chest of drawers are great options for this. It's also important to keep the bed away from the swing radius of any closet or drawer.
The same idea can be used for the bedroom's other major thoroughfares, such as the doorway to the bathroom, the route to the vanity, and the doorway to the balcony or pool. Here, picking the right door widths will make it easy to move around, which is especially important when you're trying to decorate a room.
#3 Tip for Bedroom Design: Strategically placing your furniture is important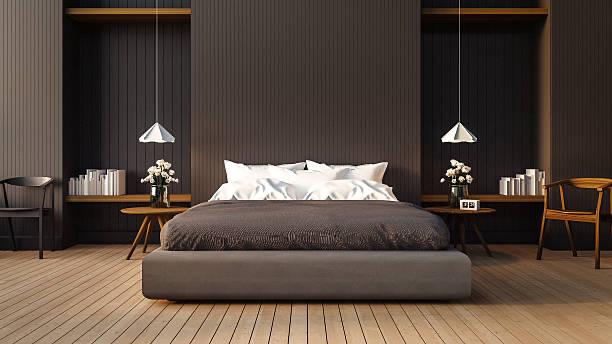 Bedroom layout involves more than just picking a spot for the bed and closet. The size of the room and where the windows and doors are will determine how big and where to put the furniture. The bed should take up no more than two-thirds of the bedroom, so that's where you should start when selecting furniture. Anything much bigger would be too cumbersome and take up precious floor space that could be used for displaying art or a collection.
Place the bed so that it faces the door for a warm and welcoming first impression. Alternatively, you could put it along the longest wall in your bedroom, leaving you plenty of space on either side for nightstands or storage chests. Without a proper bathroom vanity, the dressing table becomes the next most important piece of furniture.
#4 Tip for Bedroom Design: a panoramic view
An inviting start and finish to the day can be had when sleeping in a room with a view of a garden, wooded backyard, or body of water. You can improve the atmosphere by installing glass doors or drapes that let in light while blocking out the sun. Also, make sure no pieces of bedroom furniture are obstructing your view.
#5 Tip for Bedroom Design: Use lights to decorate
Light from outside sources is the best way to bring warmth and positivity into your bedroom. Put the mirror or vanity where natural light can illuminate the space. Use a mix of ambient and focused lighting to make the space cozy and inviting in the evenings.
There are many different types of lighting, each one serving a specific purpose. At a desk or reading nook, for instance, you'll want task lighting, which shines brightly on the surface directly in front of you. In a bathroom or dressing room, cross lighting is ideal because it eliminates shadows.
#6 Tip for Bedroom Design: A splash of colour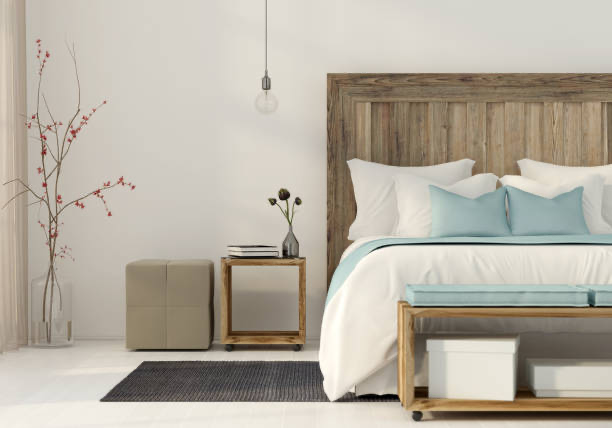 All it takes to breathe new life into a bedroom is a fresh coat of paint in uplifting hues. A sense of space and calm can be created by using primarily light colors. However, that is not universally true. Different people will respond differently to different color schemes; bright, optimistic hues may stimulate some, while muted tones may be more relaxing for others. Pick a method that stimulates your senses in the way you prefer.
Many different intimate moods can be created in a bedroom through the use of color (by linking colors, creating statement walls, adding a dash of adventurous hues on a light background, and mixing contrasting colored textures).
Tip #7 for Bedroom Design: More clever storage
Before cramming your bedroom with furniture, take some time to carefully consider how much space you actually need for storage. If you are designing your bedroom from scratch, make sure to include storage options like walk-in closets, wall-to-wall sliding wardrobes, shelves that are easy to reach, and storage cabinets that are well-organized.
Spending your money on a bed frame that has built-in storage, nightstands with drawers, a sideboard, or a box chest will be a wise investment. You can store anything from pillows and blankets to children's toys, as well as bedside essentials like lamps, hand creams, and reading glasses.
Make the most of your limited bedroom square footage by maximizing your closet space. Have baskets, hangers, hooks, and drawers so you can create a flawless organization system.
Looking for more interior design ideas ?
Have one of our expert interior designers get in touch with you now, by simply requesting a callback.
We also encourage you to look through the rest of our posts for more ideas for your home's decor.
More Blogs on Interior Designs
5 Must See kitchen colour ideas: Home Decor
7 Dining Table Designs for Small Spaces with High Praises