These clever solutions for a small dining table will impress your guests without taking up too much room. Keep on reading!
Many years have passed since the widespread shift from joint to nuclear families in India. No matter what happens, our philosophy of "Atithi Devo Bhava" (guests are God) will never change. After all, there's a special warmth that comes with showing affection through the medium of food.
At Homes4India, we think it's important to honor that sentiment by showcasing beautiful examples of residential decor. Depending on your preferences, our designers have crafted a selection of cutting-edge small dining table designs.
The one guarantee is that whatever you choose will be a topic of discussion at home. So, are you prepared to take a look at our chic, unique, and space-saving modular small dining table designs?
Small living space with a dining table
A foldable table is a great choice if you need a dining table but have limited space. The foldable table can be stored neatly against a wall, where it can be used as a cabinet, thanks to our clever and useful designs. Ideal in terms of both efficiency and minimization of footprint. This is an excellent example of a situation in which everyone benefits.
If your home is short on space but you still want a TV and dining table, consider a drop-down table with a combined cabinet. A foldable dining table in a cheery color is a great way to brighten up a small apartment or a lonely home without taking up too much floor space.
Small-Sized Folding Dining Table For Small Spaces
Even if they have a small dining area, most families still opt for a standard 4-seat table when shopping for a dining set. The traditional table for four people is no longer needed since modular, custom furniture has come along.
This table, which is both beautiful and practical, is perfect for a large family. When the table's leaves are extended, it can seat up to six people. This small folding dining table will be the best purchase you make for your home because the chairs fold up and fit inside the table when not in use.
Minimalist Breakfast Table Layout
Due to the chaos of the day, there is often not enough time in the morning to properly prepare a meal, clear the table for a sit-down meal, and then clean up afterward. As a result, we came up with the idea of a pull-out table for the kitchen as a lifesaver for couples in the morning rush.
Save time in the kitchen, at the table, and when cleaning up thanks to the close proximity of the stove, the breakfast table, and the long, sleek marble counter. Even if you're in the middle of making a meal and realize you need more salt or a different knife, it's easy to get what you need from this modular kitchen's pull-out drawers and upper cabinets.
Small Spaces, Four-Seat Dining Table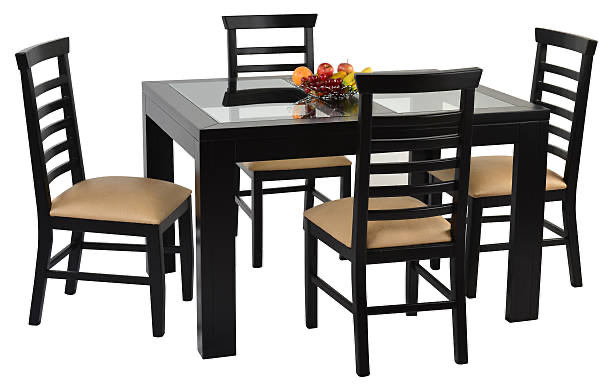 Stylish, space-saving crockery storage that opens into a compact table for four! Many homes don't have enough space to show off and store their fine china. This unique dining table with a veneer finish is the perfect answer. When it's not in use, the tabletop can be folded up and easily fit into the cabinet for plates. Additionally, a tall, closed cabinet can be attached to the table's side, hiding the entire unit from view if desired.
Ideas For A Small Kitchen Dining Table
A granite-topped breakfast counter can replace a small dining table set in a kitchen with an island, giving you a lot more room to work with. The breakfast counter's versatility stems from the fact that it can serve double duty as both an extra work area and a freestanding storage cabinet. This layout is perfect for families with kids, as it provides a cozy space for everyone to gather for meals and conversation, whether it's a hectic weeknight or a leisurely weekend.
A Design For a 2-In-1 Folding Dining Table For Small Spaces
These days, most move-in-ready houses combine the dining and living spaces into one large open area. The silver lining is that contemporary issues necessitate contemporary responses. With its open shelving and foldable design, our dining table is a true lifesaver. The foldable table is sufficient for mealtime use. It can also serve as a convenient place to keep items like snacks for movie night, phone chargers, and even bedding for an unexpected overnight guest. Small kitchen tables are just as functional as those for the living room.
A quaint small dining table in the kitchen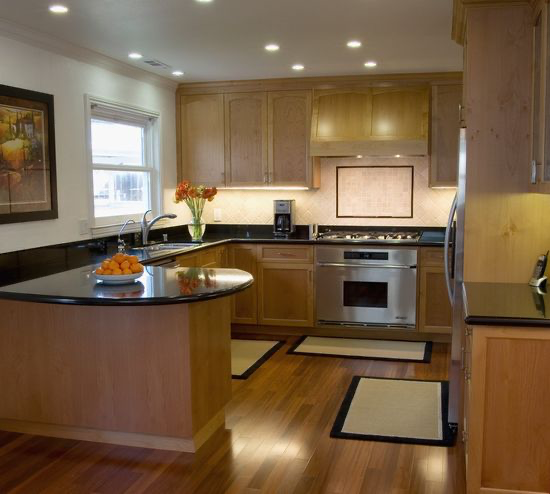 Depending on the layout and the number of people living in the house, a modular kitchen can eliminate the need for a separate dining room, which is just one of its many benefits. This G-shaped cooking space is a perfect illustration of this concept. Because of how it is set up, a part of the counter can be used as a table for eating without taking up any extra space.
The drawers and cabinets that are hidden under the tabletop make it easy and safe to get to everyday dinnerware. The G-shaped kitchen is not only useful, but also nice for a romantic evening because the windows and hanging lights let in a lot of natural light.
There is an abundance of options for small dining tables that can serve multiple purposes. It's important to have a design team that can meet your needs and preferences.
Looking for more interior design ideas ?
Have one of our expert interior designers get in touch with you now, by simply requesting a callback.
We also encourage you to look through the rest of our posts for more ideas for your home's decor.
More blogs on Interior Designs
5 Must See kitchen colour ideas: Home Decor
7 Easy Tips for Bedroom Design to Make the Perfect Getaway