Transform Your Slumber Zone: The 7 Latest Headboard Styles You Shouldn't Ignore

The bedroom, for many, is more than just a room where you retire for the night. It's a personal sanctuary—a haven of privacy, rest, and expression. A place where you can truly be yourself. Consequently, it demands a design that mirrors this distinctiveness and comfort. A significant part of this design emanates from one's choice of headboard.
The right headboard doesn't just add architectural detail to your bedroom; it can dramatically alter its aesthetic vibe and functionality. In this enlightening guide, we delve into the seven latest headboard styles that promise to revolutionize your bedroom's look and feel. Stay with us to uncover headboard designs that embody both cutting-edge trends and timeless elegance.
Tufted Headboard
Elegance meets comfort in tufted headboards. Often upholstered with sumptuous fabrics like velvet or suede, tufted headboards feature patterns created by tufts or buttons. This intricate detailing not only serves as a luxurious backdrop for your bed but also adds texture and depth to the room. Tufted headboards can be customized in various shapes and sizes, offering the perfect blend of sophistication and personalized style. When choosing the fabric and the tufting pattern, consider your bedroom's overall aesthetic and your own comfort needs to make an informed decision.
Wooden Headboards
Wooden headboards have come a long way from their rustic, traditional beginnings. Today's designs embrace both the minimalistic and the ornate. A wooden headboard can serve as a blank canvas for your creative expressions—paint it, stain it, or even upholster portions for a mixed-materials look. The wood type you choose, from oak to walnut to reclaimed wood, can dramatically influence the room's atmosphere. A wooden headboard is both versatile and enduring, able to adapt as your design tastes evolve.
Metal Headboards
Industrial design has made its way into the bedroom, and metal headboards are its charismatic representatives. From wrought iron to brushed nickel, metal headboards are an epitome of durability and strength. These headboards work particularly well in modern, minimalist settings but can also add an eclectic edge to a more traditional room. Moreover, metal headboards often feature intricate scrollwork or geometric designs, adding both visual interest and artistic flair to your bedroom.
Storage Headboards
Modern problems require modern solutions. As homes become increasingly compact, storage headboards offer both style and utility. These designs often feature shelves, cubbies, or even hidden compartments, turning what is usually wasted space into invaluable storage. Storage headboards come in all materials and styles, ranging from upholstered options with hidden zippers to wooden designs with adjustable shelving.
Upholstered Headboards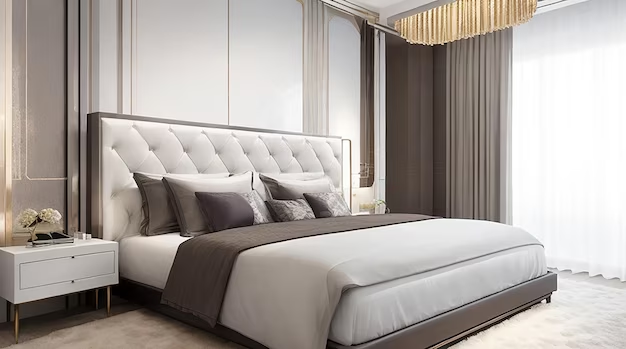 Who says comfort and style can't go hand-in-hand? Upholstered headboards offer a cozy backdrop that can be customized to the last thread. The key here is material choice—linen, cotton, or velvet, each fabric brings its unique texture and aura to your bedroom. Add tufts or buttons for detail, or keep it smooth for a sleek and modern look.
Adjustable Headboards
Change is the only constant, and adjustable headboards allow your bedroom design to evolve without costly replacements. These dynamic designs enable height and angle adjustments, so your headboard perfectly matches your ever-changing needs and styles. Choose a design that lets you interchange fabrics or panels for a new look whenever you fancy.
Artistic Headboards
For those who seek to make a bold statement, artistic headboards offer a canvas for creativity. Whether it's a hand-painted mural, a headboard integrated with 3D art, or a digital print, your bedroom becomes a live gallery with an artistic headboard. The designs are often customizable, allowing your personal artistic style to shine through.
Conclusion
Headboards are no longer mere accessories to your bed. They've evolved to become defining pieces that shape the aesthetic, comfort, and functionality of your personal sanctuary. Whether it's a tufted design for a luxurious feel, a wooden masterpiece for timeless elegance, or a storage headboard for practicality, the choices are boundless but significant. Your selection will not just reflect current design trends but also your unique identity and lifestyle needs.
Why Choose Homes4India for Interior Designs
We at Homes4India believe in giving you spaces that resonate with your personality. With our specialized team of experienced interior designers and craftsmen, we turn your design dreams into reality. Beyond just headboards, we offer comprehensive interior solutions that breathe life into every corner of your home.
Make a statement with Homes4India and contact us today to schedule your personalized design consultation.
FAQs on Headboards
1. Can headboards be customized?
Yes, many headboard styles can be customized to fit your unique aesthetic and functional needs.
2. Are upholstered headboards hard to maintain?
Not necessarily. Choose a fabric that is both durable and easy to clean to ensure longevity.
3. Do I need a professional to install my headboard?
While some headboards can be DIY installed, for a seamless fit and finish, professional installation is often recommended.
4. How do I choose the right headboard material?
Consider the overall aesthetic of your room, your comfort needs, and the durability of the material.
5. Can a headboard improve my bedroom's storage situation?
Absolutely, storage headboards can significantly increase your bedroom's storage space.
More Blogs on Interior Designs
Latest Wooden Sofa Set Designs: Elevate Your Living Room Experience
Illuminate Your Bedroom Oasis: A Comprehensive Guide to Hanging Ceiling Lights
All pic courtesy: freepik.com, wikipedia & pinterest.com