It is common knowledge that liquor tastes best when it has been properly stored. Don't skip this list if you really like alcoholic drinks but aren't sure how to store them. 
When it's time to unwind or raise a glass in honor of a special occasion, it's important to remember that the beverage's quality depends on how it's stored. In this article, we will look at 5 home bar designs recommended by Homes4India. 
#1. A Bar Cabinet, so close to reach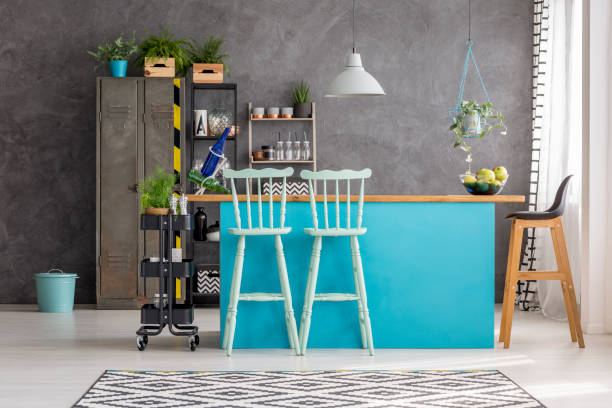 Do you prefer to stay in your comfort zone and drink alcohol whenever you feel like it? Does going so far as to walk to the kitchen feel like a chore? 
Okay, so here's the good news: A corner bar cabinet seems like it would be perfect for you. A rustic wooden home bar cabinet sits in the corner of a living room decked out in handicraft masks on one wall and beautiful floral wallpaper on the other.
In addition to its usefulness as a wine rack, this home bar unit can also feature open shelves. 
This bar cabinet can have plenty of space for bottles and glasses, and the sliding glass doors will keep everything safe.
It's not something you'd want to pass up.
#2. A Bar, For Your eyes only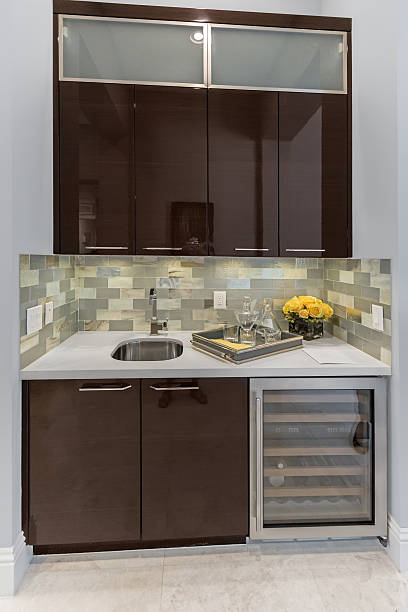 It's common knowledge that drinking too much alcohol is harmful to one's health. You're aware of your limitations, but so often you look up and see a bottle of whiskey staring at you from your shelf. You've probably got your hands around its neck before you realize what's going on. 
Let's help you here. If you want our suggestion, blur out your booze. If you have a built-in crockery cabinet, this bar cabinet style was designed for you. The glass used in this bar cabinet will have a hazy appearance. 
Which means that your booze is in plain sight without drawing too much attention to itself.
If you have a minimalistic kitchen design, this bar cabinet is a great addition.
#3. Hide your Treasured Spirits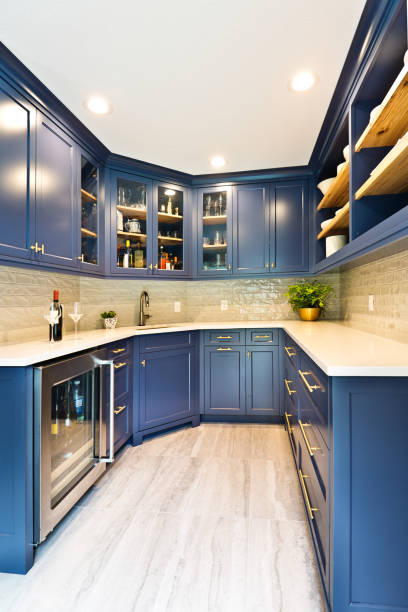 The longer your spirit is aged, the better it tastes. The whisky or bourbon that makes you feel better than any of your most valuable things.
But how do you hide it from friends and relatives who want a taste of your beloved booze when they are regular weekend visitors ?
A modern bar cabinet that is a combination of tall, small, open, and closed units is just what you need.
The tall open cabinet with shelves for all bottles is connected to a lower bar cabinet where you can hide your own stash of alcohol.
A red-toned combination bar cabinet is the pinnacle of modern bar cabinets.
#4. Attention, Sommeliers and Wine Experts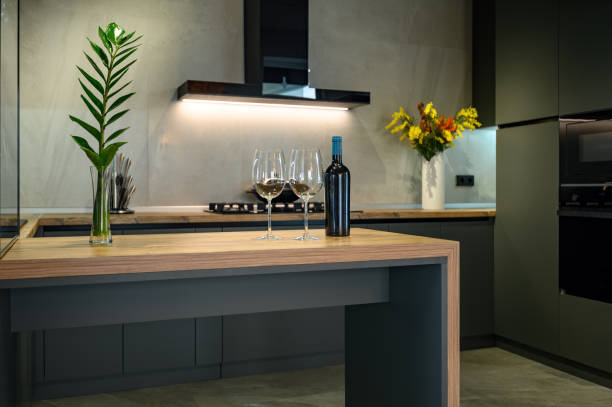 A home bar cabinet, waiting for the clock to strike wine, is built into one of the grey walls in this ultra-modern dwelling. 
If you're a woman and you like to unwind with a glass of wine, a bowl of popcorn, and watching your favourite show, then this home bar cabinet design is for you. 
Many bottles and glasses can be stored in this bar cabinet. One side is a wine cooler, and the other has open shelves for convenient storage.
Host a wine tasting party for your friends.
Don't hesitate any more; get the wine experts together
#5. Tall, Taller and Tallest Bar Cabinets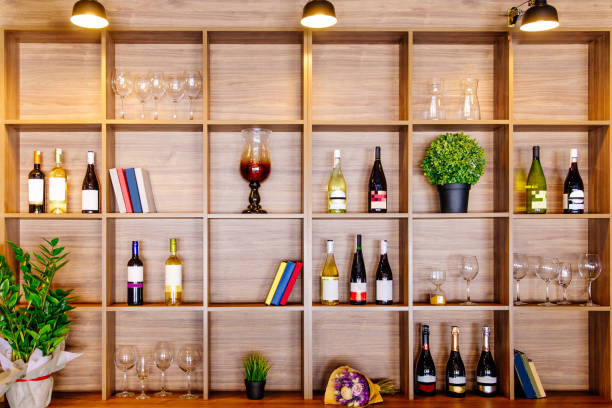 Want to add a touch of rustic charm to your home? Consider a tall wooden bar cabinet. Hey, this might be exactly what you're looking for. 
You can keep your wine, whiskey, rum, and more in the pantry that's hidden away inside this tall bar cabinet.
This home bar cabinet has some real style thanks to its zigzag and square shelf and bottle holder configuration.
These are some ideas for home bar cabinet designs that Homes4India came up with. Now you can proudly show off your expensive liquor in style. 
Interested in hearing more creative ideas for designing your bar-at-home ? Our Design Experts at Homes4India are available for a callback request. 
If you enjoyed reading this article, you might also like reading about many other design ideas that can be found in our Blogs section.
Further Reading
7 Enchanting False Ceiling Designs for Your Living Room
7 Elegant Interior Design Ideas for Office Spaces
7 Stunning & Luxurious Flooring Designs for Home Interiors