7 Latest Kitchen Wall Tiles Designs In 2023
Today, people are making their kitchens the focus of their home's design, and backsplash tiles have become increasingly charming over the past few years. To save you time, Homes4India has gathered a wide range of elegant designs for kitchen tiles, covering a range of materials, prints, and color palettes. Get motivated by what you're about to read!
What you'll find in this article ?
Finding the Perfect Tiles for Your Kitchen
Popular Backsplash Designs for the Year 2023
Kitchen Wall Tiles in a Watery Aqua Color
Modern kitchen wall tiles with geometric patterns
Kitchen Wall Tiles with pastels and patterns
Kitchens Walls with Checkered Tiles
Strip-designed modern kitchen wall tiles
Granite Tiles for the Kitchen Backsplash
Kitchen Tiles with Glass Backsplash
Care and Cleaning Advice for Kitchen Tiles
How Can Homes4India Help You?
FAQ on Kitchen Wall Tiles
Kitchen backsplashes have become the hottest new focal point of kitchens—and we love indulging in them too! And why not? Not only do they safeguard your kitchen from splatters and splash, they can infuse new personality into your kitchen. Given the variety of kitchen tiles design out there, from porcelain to glass and tiles to wood, the options are plenty.
Let's take a look at some of our favourite kitchen wall tiles designs and backsplash kitchen cabinet combinations. You can opt for those that are complementary or contrasting in colour or design. Whatever the case, however, you can be sure that the effect you get is stunning each time.
Finding the Perfect Tiles for Your Kitchen
There are simply too many options for consumers to choose from at this time. So, how do you embark on getting the perfect kitchen tiles design for your home? Take the following measures:
Think about where you live; if you're in a dusty area, low-maintenance materials like glass or ceramic might be a good idea.
Prepare a reasonable spending plan: It's important to think about how much you can afford to spend on the backsplash before you let your eyes lead the way. In comparison to a ceramic one, for instance, a marble backsplash will set you back quite a bit more. For this reason, you should not make this choice until you have established a suitable financial plan.
It goes without saying that color blindness is a serious problem. If you want your home as a whole to have a consistent aesthetic, you need to think about more than just one room. The safest bet is to stick with white, black, or red, as these are considered "universal" colors.
It's crucial that you give some thought to your way of life. When designing a show kitchen, high-end materials will last longer. But in busy kitchens, try to choose materials that will last longer.
Popular Backsplash Designs for the Year 2023
1. Kitchen Wall Tiles in a Watery Aqua Color
This aqua-colored kitchen tile design looks great with light-colored cabinets and is a treat to look at. With this set of modern kitchen wall tiles, your kitchen will look light and airy.
2. Modern kitchen wall tiles with geometric patterns
Keep up with the latest style in kitchen tiles by including some eye-catching geometric patterns to counteract the predominantly neutral color scheme.
3. Kitchen Wall Tiles with pastels and patterns
3. Kitchen Wall Tiles with pastels and patterns
If the walls and cabinets in your kitchen are a neutral color, the backsplash is your chance to really make a statement with tiles. We can't get over how great these tiles look together on the wall of this contemporary kitchen.
4. Kitchens Walls with Checkered Tiles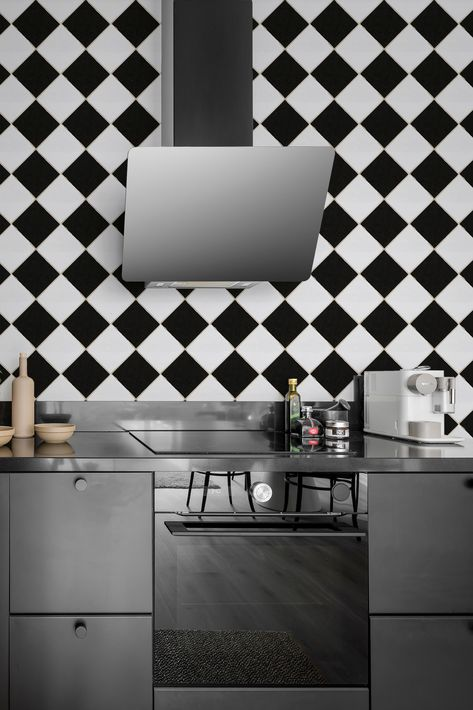 Want to feel like the Queen of your Chessboard? Kitchens with white cabinets and a retro-inspired, minimalist tile pattern look especially good with a checked pattern.
5. Strip-designed modern kitchen wall tiles
It's possible that adding shimmering strips would make your kitchen more exciting. Do you agree that this pattern of tiles on the kitchen wall stands out beautifully against the white wall?
6. Granite Tiles for the Kitchen Backsplash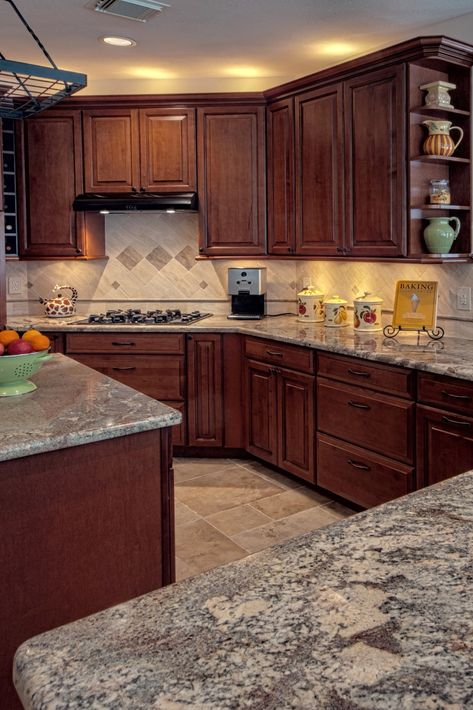 Granite is an elegant alternative to the modern kitchen wall tiles that are typically used as backsplashes. It's exactly what this dark-colored kitchen needed.
7. Kitchen Tiles with Glass Backsplash
These glass tiles, when assembled, are all you need to make your plain wall kitchen tiles design shimmering.
Care and Cleaning Advice for Kitchen Tiles
Even backsplashes in kitchens require routine cleaning and upkeep. Therefore, here are a few things to remember when caring for your tiles:
Keep the kitchen tiles spotless by wiping them down after each use. You can use any of the many readily available disinfectants, or just plain water and a sponge.
A used toothbrush can be useful for removing particularly stubborn stains. Prepare a cleaning solution by combining equal parts vinegar and baking soda. To remove stains, apply this and scrub vigorously with the toothbrush. However, for patterned tiles, switch the toothbrush for a soft sponge.
To remove grout from the edges, simply vacuum them.
If you want to keep your kitchen looking spotless, you should give it a good deep cleaning once a month.
How did you feel about this article? Amazing kitchens are what we specialize in making. Contact us if you want a custom kitchen built just for you!
How can Homes4India help you design a beautiful kitchen?
So, the next time you are looking for design ideas for your kitchen, look no further. Schedule an online consultation with Homes4India today.
Have any thoughts or suggestions you'd like to share with us? We're all ears! Drop us a line at enquiry@homes4india.com
FAQs on Kitchen Walls
What's the Best Kitchen Tile Color?
Your own tastes will determine the answer. However, white and green are vastu-approved colours. The color red stimulates hunger while the colors blue and yellow are pleasant to the eye.
What Kind of Kitchen Tiles Are Ideal for a Kitchen?
Consider how you'll be using the room before making a tile purchase. Consider your budget and requirements as you investigate options like ceramic tiles, marble, and porcelain.
What Should I Look for When Buying Tiles for My Kitchen floor?
Think about how often you'll be walking on the kitchen floor when making your tile selection. In Indian kitchens, the most common flooring materials are ceramic, marble, porcelain, and vinyl.
What Are the Most Suitable Floor Tile Colors?
To get the most out of your kitchen's aesthetic, install tiles in any color family that works well with the rest of the room. However, white, wood and black are some common choices.
More Blogs on Interior Designs
5 most well-liked and popular kitchen plans and designs
Latest Wooden Bed Design Ideas for Bedroom 2023
Design Ideas for Modern Partition for Living Room 2023
All source of images are from pinterest.com