Best Open Kitchen Design Ideas in India 2023
The open floor plan of Indian kitchens is gaining in popularity. These stylish patterns are simple to incorporate into your existing decor. They save on counter space while allowing you to host dinner parties with ease.
Unlike in the past, when an open kitchen required a large room, today's space-saving kitchen cabinets allow for this layout to be employed even in modestly sized apartments.
These Indian kitchens are designed to be open and welcoming, perfect for mingling and catching up with loved ones. In the kitchen, you can multitask by watching your favourite show, keeping an eye on your child's schoolwork, or enjoying a glass of wine with friends and family. It's a great way to show off your fine china and other kitchenwares, too.
An open kitchen gives the impression of more room and can add visual interest to a room. Moreover, if you find that you need a little privacy despite this, you may simply instal some stylish dividers or a breakfast bar. In this article, Homes4India design team gives you the very breathtaking examples of Indian open kitchen design.
Elegant Lighting Plan for an Open Kitchen
Particularly in a compact open kitchen, light is one of the most important factors in making the space stand out. The addition of some decorative pendant lights, cabinets with backlights, and strip-led lighting will give your kitchen a dramatic touch. They are an excellent way to spice up your living room, and they are also a lot of fun to have at parties.
Open-Concept Kitchen Separated by a Half Wall
A stylish divider is an excellent option if you value some separation between your kitchen and the rest of the house. This screen provides some solitude in the kitchen without adding visual clutter. So, if you're not the kind to always clean up the dishes or keep the kitchen spotless after eating, this divider can assist hide the mess from your guests.
Design Your Open Indian Kitchen Into Your Family Room
The open layout of the kitchen and living area works well together. For optimal reflection of natural light, try choosing glossy laminates or lacquered glass finish. This will give the room a sense of openness and spaciousness.
To prevent smoke from entering the kitchen and living area, a chimney should be constructed and installed above the hop.
The laminates' wood finish will complement your living room furnishings, while the cabinets' black surface will stand out. This open, modern kitchen is ideal for couples or families with young children who value their privacy.
Indian Kitchen With an Open Layout and Brilliant Colors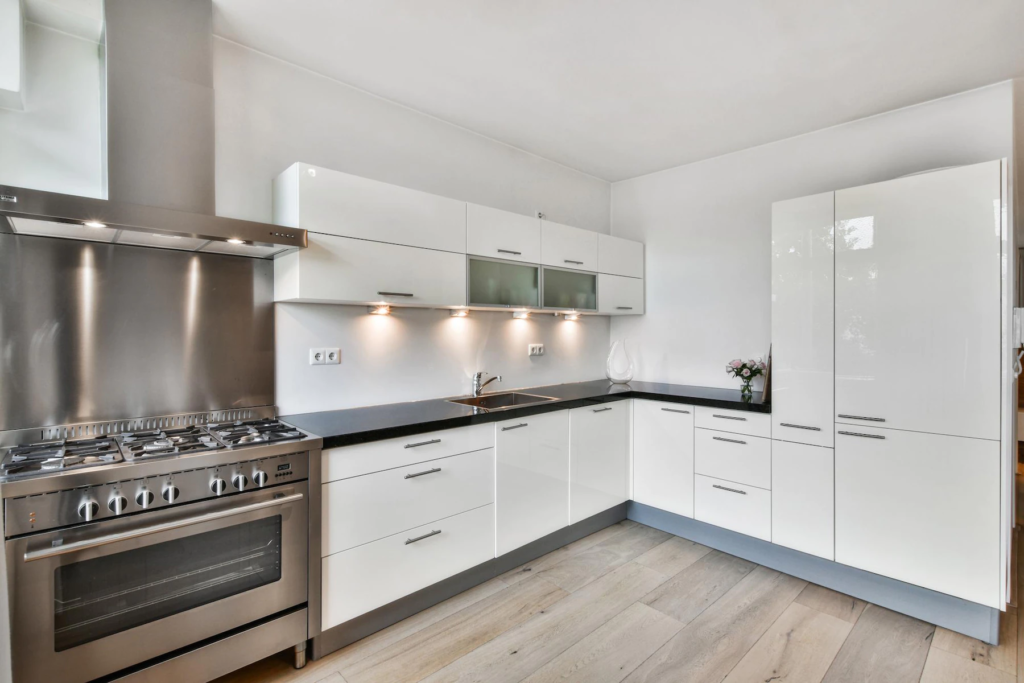 This gorgeous open kitchen design is a no-brainer if you enjoy staying on the cutting edge of style. The white makes the space more cheerful and lively, yet the sophistication of the grey breaks up the color's dominance. It's the ideal colour scheme for giving your kitchen and dining area a warm, inviting feel. If you want your kitchen to feel fresh and new, use this hue.
The Pink and White Indian Open Kitchen
The soft pink and white colour scheme in this open kitchen is quite relaxing. The quartz counter top and tiled backsplash are a lovely way to break up the monotony of the space. If you and your loved ones enjoy meal preparation
Space-Saving Open-Concept Indian Kitchens with Wine Racks
An open wine rack is a great addition to a contemporary Indian open kitchen, whether you use it to unwind with a glass of wine at the end of a hard day or to wine and dine friends as you prepare your favourite dish. As an added bonus, you'll have plenty of room to show off your wine collection.
Ultra-Modern Compact Indian Kitchen
The Indian open kitchen relies heavily on clean and organised storage and counter space. Modern storage solutions that make full use of your kitchen's available space are essential if you want to avoid bringing the kitchen's untidy appearance into the rest of the house. Skirting drawers, pantry pullouts, tall units, appliance garage, bi-lift cabinets, and magic corners are just a few examples of the state-of-the-art storage options available today that will make it a breeze to keep your cookware, flatware, and groceries neat and tidy.
Modern Open Kitchen With a Versatile Center Island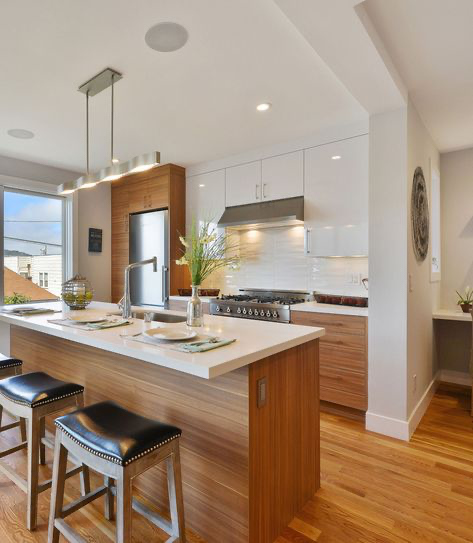 The island in your kitchen serves many purposes. Kitchen islands are practical if you and your partner enjoy preparing meals together. It's perfect for cooking and hosting parties. Kitchens can be made more practical by adding amenities such as sinks and islands. To make more room for dishes, cookbooks, or tools, instal a base cabinet under your kitchen island. Make your kitchen island the new focal point of your home by adding some chic high chairs for your visitors to sit on while they mingle or enjoy a fast lunch.
How can Homes4India help you design a beautiful kitchen ?
So, the next time you are looking for design ideas for your home, look no further. Schedule an online consultation with Homes4India today.
Have any thoughts or suggestions you'd like to share with us? We're all ears! Drop us a line at enquiry@homes4india
More Blogs on Interior Designs
Hall interior design ideas 2023
Top 7 Ideas for Interior Door Design 2023
5 most well-liked and popular kitchen plans and designs
Image Courtesy: pinterest.com