Modular Kitchen Design Ideas for Indian Homes in 2023
Over time, the kitchen has evolved into more than just a place to prepare meals; nowadays, it serves as a social hub for the household as a whole. Because modular kitchens can fit into our increasingly simple daily lives, they are becoming more and more popular.
In this article, Homes4India takes a look 7 of the best modular kitchen designs for Indian homes, complete with pictures. Different aesthetic tenets are represented in these contemporary kitchens. We promise that you can find a contemporary design style for your kitchen that you'll love.
Watch out for these design trends, accessories, and finishes in 2023
Elegant and Uncomplicated Kitchen Layouts
Designs for an L-Shaped Modular Kitchen
Parallel Kitchen Designs
Stainless Steel Modular Kitchen
Creative Modular Kitchen Layouts for the U-Shaped Modern Kitchen
Modular Kitchen Layouts with a Peninsula
Modular Kitchens with Island Layouts
How to Create a Modular Kitchen ?
FAQ's on Modular Kitchens
Let's take a look at the 7 best modular kitchen design ideas from which you can pick the best one for your home. Everyday elegance and practicality come together in a simple modular kitchen design.
1. Elegant and Uncomplicated Kitchen Layouts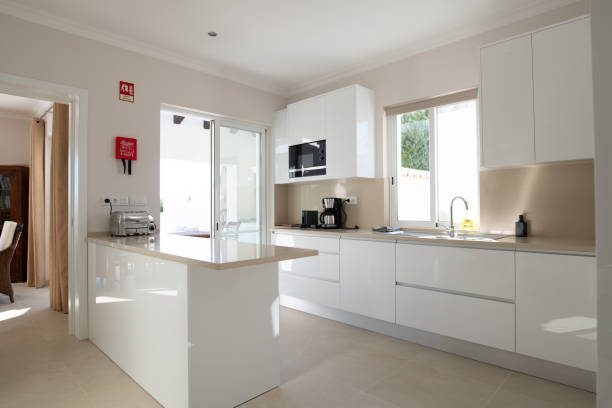 Unlike the more common one-wall designs for modular kitchens, straight modular kitchens have all the necessary components laid out in a single, continuous row. It is easy to use because it has a simple user interface, so a single person with no experience can use it. You can conceal cabinets, food, and appliances behind pocket doors while still having easy access to everything in your kitchen if you use them correctly. Straight modular kitchen layouts work well with appliance closets at ground level, which makes everything in the kitchen easy to get to at all times. The look of your kitchen will be better if the cabinets on both levels are different colors.
2. Designs for an L-Shaped Modular Kitchen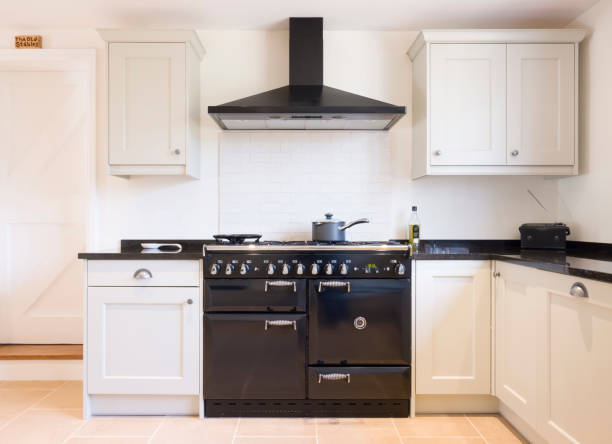 L-shaped kitchens are popular due to their space-saving design and aesthetic appeal. It's easy to make the kitchen more functional and install the other appliances if you separate the cooking and cleaning areas.
An L-shaped kitchen layout is adaptable to kitchens of varying sizes.
An L-shaped kitchen layout makes the most of available space in rooms of all sizes. The L-shaped layout also allows for multiple cooks to work in the space at once, which is a time-saving bonus. Such a small modular kitchen design can be made easily and for less money, and it has a lot of storage space for the user's convenience in the form of drawers and shelves, large cabinets, and the kitchen trolley design.
3. Parallel Kitchen Designs
If you have a small amount of available space, parallel kitchen designs are the best option. Here we see a typical galley kitchen, with a small central walkway separated from the main cooking area.
When the kitchen area has walls on both ends, a parallel layout looks fantastic.
These kitchens make the most of the space on the walls by putting in cabinets that go all the way to the ceiling and even further, with shelves and drawers that stick out into the hallway. Kitchens with windows or doors leading to the garden, for example, are ideal locations for these outlets.
4. Stainless Steel Modular Kitchen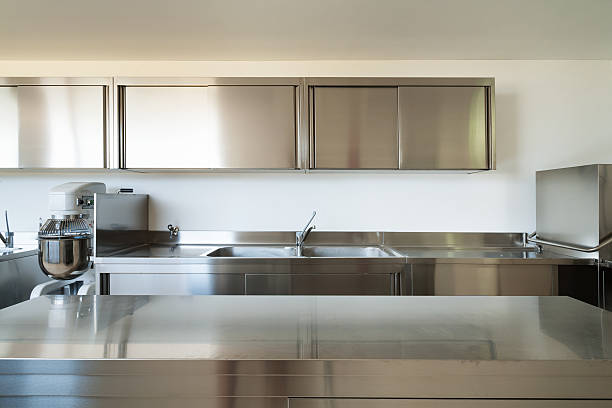 If you're looking for durable kitchen furniture, a stainless steel modular kitchen is a great choice.
Stainless steel kitchens are popular because they last long, are easy to clean, and can be changed to fit different needs. It is possible to save valuable square footage by installing the oven and most of the cabinets in the wall. The kitchen's long lifespan and low environmental impact are its most significant benefits. These kitchens achieve their retro feel with a modular wood design.
5. Creative Modular Kitchen Layouts for the U-Shaped Modern Kitchen
If your kitchen is on the smaller side and could use some extra storage space, consider a U-shaped modular layout.
If you value privacy in the cooking area while still needing quick access to the living room and the dining room, a U-shaped modern modular kitchen design is the best option for you. If you have the space, putting the island table smack in the middle of the room will make it look much more elegant. This is a popular choice for people who have a big family or who like to eat with their extended family.
6. Modular Kitchen Layouts with a Peninsula
These kitchens resemble island kitchens in many ways, but the island is smaller and located in a different section of the room. Everyone at home can use this area for their regular lunch break.
For homes with limited square footage, like studios, a minimalist modular kitchen layout is a great choice.
Collectively, they increase the amount of usable floor space in the kitchen, which is great for cooking for a large group of people or performing other tasks. As was mentioned, this is especially helpful in cramped kitchens. Since the island can be changed to fit the user's needs and interior design, its shape doesn't matter much.
7. Modular Kitchens with Island Layouts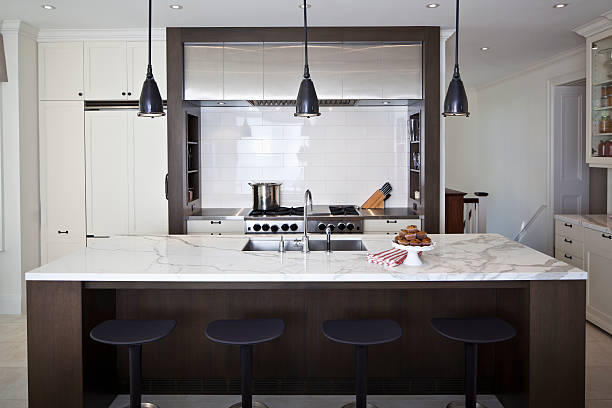 This layout allows for the incorporation of a countertop over previously installed cabinetry. This realistic setting simplifies housekeeping, cooking, and other daily tasks.
One of the many benefits of a kitchen island layout is that it looks great and makes it easy to find a place to sit.
It can be used as a separate storage room since it is located away from the kitchen. This place is a better option than a dining hall for a low-income family with children. The only time it appears to be useful in the kitchen is when the lighting is changed.
How to Create a Modular Kitchen ?
Modular kitchens are becoming increasingly common, and if you're considering making the investment, you should make sure that the one you choose is well-thought-out and functional. The versatile modular kitchen designs 2023 give you the freedom to make the most of every inch of space. Expertise and care are needed to create a beautiful luxury kitchen, but you can get your modular kitchen design and plan off to a good start by following these guidelines.
1. There Must Be Adequate Ventilation
A lot of heat is generated while you're using it in the kitchen. While the chimney and exhaust fan do help with this problem, having a door that leads out to the balcony or washing area is always preferable. This will help make sure that your kitchen has enough airflow even when you're not using it to cook. By doing this, you'll also keep smoke outside of your home.
2. Understand Your Color Scheme
The kitchen color scheme you decide on could be the final touch in the room's overall design. A white modular kitchen design color scheme requires a lot of cleaning and maintenance, and if you plan to keep the same color for a long time, you should probably steer clear of that.
This doesn't mean you should go crazy with bright paint colors inside your house. Since darker colors tend to trap more heat, they can be problematic in the warmer months. Consequently, you can play around with various color combinations. When you work with a designer, you can expect to get a 3D modular kitchen design with only a few colors to choose from. It's important that your kitchen's paint color go well with the rest of your house.
3. Take into account the Kitchen Work Triangle
The kitchen work triangle is a design principle that can help create efficient work areas and keep the kitchen's traffic lanes clear. It includes a cooking area, a washing area, and a fridge. You'll spend a lot of time planning your kitchen's layout around these three items, and deciding how to arrange them so that people can easily access the stove, sink, and pantry without making a mess. Kitchen layout decisions should be preceded by a quick sketch of the space. A modular kitchen should have at least 4 feet and no more than 9 feet of space between each of the triangle's legs, as recommended by the National Kitchen and Bath Association.
4. Develop a layout strategy
Making a plan is the first step toward realizing your dream of a small, modular kitchen on a tight budget. In order to create a modern modular kitchen, it is important to remember that the kitchen is much more than a utilitarian space for food preparation and cleanup. As a result, it's important to plan out the layout of each room with the specific functions in mind, such as eating, talking, and drinking tea.
5. Make Sure Trash Gets Taken Away
Depending on your preference, you can either keep a large steel trash can outside the kitchen or install bins inside the cabinet door. Additionally, built-in dumpsters feature two containers, one for dry garbage and another for moist waste, making them ideal for modular kitchen designs for small kitchens.
It's equally as important to keep the kitchen free of trash as it is to prepare tasty meals.
Following the steps outlined here may help you ensure that your modular kitchen has every feature you could want. Keep in mind that the process can be altered to suit your preferences, resulting in a kitchen that is exclusive to your home and cannot be duplicated elsewhere. When building a new smart modular kitchen or remodeling an old one, you can also seek the help of an interior designer.
6. Check All Four Corners of the Kitchen
Shelving and cabinets in the kitchen's corners are often neglected due to their lack of practicality. In contrast, blind corner cabinets can be used in tandem with modular kitchen layouts to make the most of your kitchen's corners.
7. Include Options for Smart Storage
Making the most of the available space by incorporating ingenious storage solutions is another crucial aspect of designing a modular kitchen. Make sure to designate a specific cabinet or drawer in the kitchen for all of your dry goods, including spices, cooking equipment, and dishware. Such sectional drawers have grown in popularity in recent years in contemporary modular kitchen designs. In a nutshell, they make it easier to keep your kitchen in order. Pull-out pantries, regular pantry units (with a winged door mechanism) for crockery or dry goods, and other storage miracles are available for open modular kitchen designs. Make the most of your modular kitchen's storage space by incorporating space-saving appliances and furniture.
Ventilation is a must in any kitchen design, so keep that in mind. The installation of windows is one option, but modular kitchens are not fully functional without the addition of a chimney above the range and/or an exhaust system. After all, you wouldn't want the frying of those chilies to trigger a sneezing attack in your guests or yourself.
FAQ's on Modular Kitchens
Q: How do you ensure the cleanliness and security of a modular kitchen?
A: Your kitchen needs to be a safe place to work. Gas can leak from the edge of a curved countertop, so it's important to check the lines regularly and take the necessary safety measures. The flooring you pick out should be slip-resistant and simple to clean in case of any accidents. At the very least, the kitchen sink and stove should be moved away from the electrical panel to make room for larger appliances.
Q: What is the best length for a kitchen counter top?
A: Countertops are usually 32 or 33 inches high, which is the generally accepted standard. It's also important to make sure the tops of the kitchen cabinets aren't too far above the counter, as this would make reaching the upper shelves a chore.
Q: Why is it important to choose the best quality material for a modular kitchen?
A: When designing a modular kitchen, you should not skimp on the essentials like materials, finishes, or hardware. Get the best quality you can afford if you want a kitchen that will last through the years and the busy days. If you're trying to stay within a certain price range, it might be wise to go with more affordably priced, modular kitchen fittings rather than something from a more high-end brand.
Q: How much does a modular kitchen in India typically cost?
A: The typical price range for an L-shaped modular kitchen in India is between 1 Lac and 1.5 Lac rupees. Whereas, if you're using high-end materials, a small parallel modular kitchen design can set you back close to Rs. 2 lacs.
Q: When designing a modular kitchen, how should the lighting be set up?
A: It's important to have enough overhead lighting in the kitchen, even though natural light is energizing and soothing. The countertop is where most of the work gets done, so make sure the overhead lights can see it. Since cabinet lights cast a bright beam of light onto the countertop, they are increasingly popular, as they are especially helpful for nighttime cooking.
How Can Homes for India Help You with Modular Kitchen Design Ideas ?
Homes4India was founded in 1998 with the intention of improving the visual appeal of residential homes and office spaces in India and overseas.
The fact that our services are still well-liked after serving more than 5,000 clients across 14 countries and completing over 75,000 projects is a major factor in our popularity.
Here are some of the benefits you can expect as you work with Homes4India
Homes4India provides an extensive variety of interior design services.
We have customers all over the country and serve them in cities like Kolkata, Thane, Mumbai, Navi Mumbai, Delhi, Chennai, and Bengaluru.
We provide a variety of ancillary services in addition to interior design, such as the sale of furniture, home decor, and the assembly of said furniture in the buyer's very own home.
Look no further than Homes4India, where we have a team of talented designers to make your home or office space just how you've always dreamed it should be.
Contact us today to request a callback from our team.
More Blogs on Interior Designs
Beautiful Bedroom Wallpaper Design Ideas in 2023
Best Small Kitchen Design Ideas in India 2023