Trending Hall interior design ideas in 2023
When they enter your home, what do guests see first? Wherever you call home, most likely the living room or hall. That's the case, right? To that end, it is always a good plan to put in some work to make it both beautiful and practical. You can stick to a predetermined design or simply combine different ideas to make your home your own. Homes4India elaborates on some of the Best Interior Designs for Hall to get started, as they feature a wide range of different options when it comes to furnishings and layouts. Look at them and see if any of them resemble your ideal living space.
Best Interior Design Ideas for Hall in India
Modern Living Room Interior Design
Make sure to include adequate ventilation in the design of your hall's interior! Get enough of natural light into the space by installing large windows. Use a neutral wall colour to make the area feel light and airy. You can use pastel colours to decorate any one wall you like. Add some indoor plants to your mismatched furniture, and you'll instantly feel more at ease.
Hall with Minimalist Interior Design
This super stylish home design is perfect for those who appreciate the simplicity that minimalism brings. All of the room's little nooks and crannies seem to be singing the "less is more" slogan in perfect harmony. Interiors might benefit from the use of natural browns like beige or tan to break up the preponderance of white on walls and furniture. You should add a plant or two for some natural greenery to your space.
Small Hall with Two-Toned Decor
For smaller halls, an all-white or beige colour scheme is a frequent choice. This technique is used to create the illusion of more space in a given room. However, it can get boring and repetitive to see a lot of one colour. Put some yellow on an accent wall, some throw pillows, a statement chair, or some lamps to break it up !
Latest Living Room Interior Design
It's been said that there are only two rules for creating a modern interior design: keep it simple, and keep it classy Neutral tones like grey, white, black, etc. are frequently used for the colour schemes. Rugs, carpets, wall hangings, and other textured accents are used on purpose to add visual depth and visual interest. Lines clearly demarcate each object in the area, creating an elegant and uncluttered appearance.
High-End Interior Designs for a Living Room
Make your living area more fitting for a king or queen by adding elaborate decorative elements. The geometric panels on the side walls deserve special attention. If you want your room to look like a palace, you can go a little crazy with the decorations. Extravagant furniture and decor, such as a huge quilted sofa, gold plant holders, centre tables, walls, and even side panels, may give a lot of pzazz to a room.
Hall Decorated with Timeless Style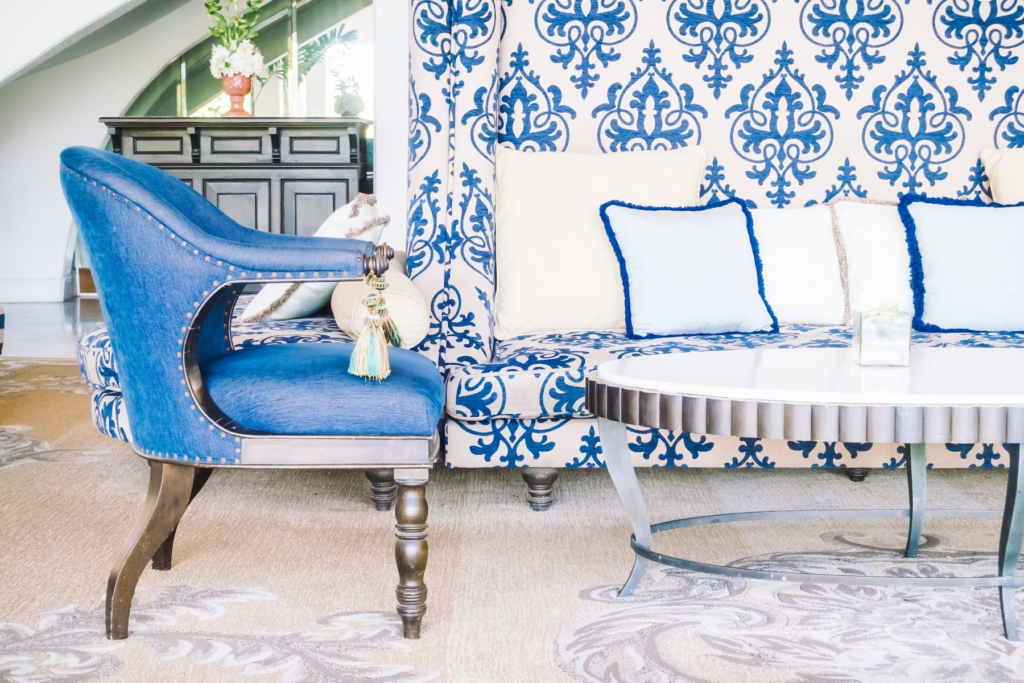 Colors like maroon, yellow, brown, and other earth tones are common in a traditional Indian living room. Vintage and antique items, such as the wrought iron Jhoola, heavenly figures, and large pots, are also prominent. The seating arrangement must revolve around a central table. Signature detail: lavish and detailed mythical paintings.
Exciting New Decorations for Large Hall
It can be challenging to create a minimalist atmosphere in a large area. There's a chance that a lot of that space won't be utilised, leaving you with an eerie sense of emptiness. Instead of a single enormous sectional sofa, try a few smaller, more discreet ones. Wall dividers that double as display cabinets should be installed. Make sure the ceiling is kept low and that there are lots of lights in the room.
Elegant New Decor for Hall
This is a classy contemporary design scheme that would work well in a smaller space. The room is mostly white and grey. Aside from white, black is another neutral that only appears in small doses, typically as an accent colour. There is no ornate furniture in sight, but the combination of the other items creates an atmosphere reminiscent of an English summer. If you want to show off your collection of novels, you need a showcase.
Hall with Contemporary Rustic Décor
Wish you could experience life in the woods? Have a look at this inviting and homey rustic living area. The plan is to avoid using any artificial materials and instead stick with wood, fabric, leather, etc. for everything. Everywhere you look, earthy colour palettes predominate; fluorescents and pastels are strictly forbidden. Compact and comfy seating is a necessary. Use a stone texture on the walls and a farmhouse table in the centre.
Interior Layout for an L-Shaped Hall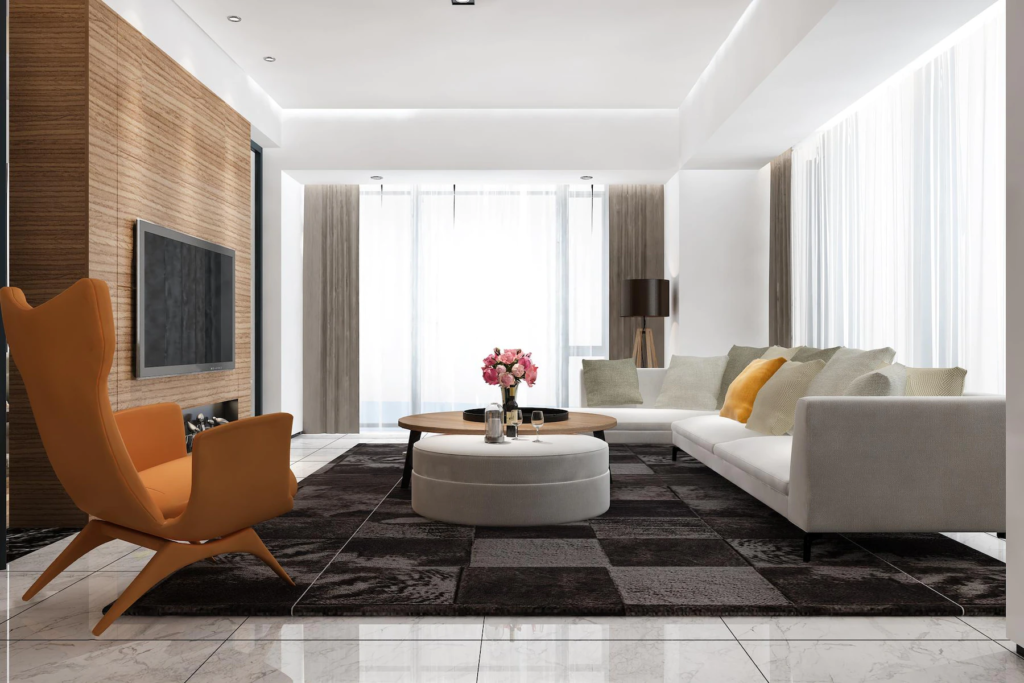 An L-shaped hall is a prevalent layout in Indian homes but is also one of the most underutilised rooms there. These spaces are notoriously difficult to get right because of the unusual L-shaped layout. The space can be made more useful if the furniture is moved near the walls. The compact area can serve as a corridor if no bulky items are stored there.
Living Room Interior with Arch
Arches are a fantastic alternative to walls for dividing a huge room into two distinct zones, such as a living and dining area. They can also serve as passageways between rooms in your house. Arches aren't just functional; they also improve the look of the inside of a building. The walls can be painted a contrasting colour, framed in wood or glass, or both.
Interiors for the Dining Hall Room
An elaborate dining room is where memories are made with loved ones, therefore it is important to give it your full attention. Create a distinct location for eating and lounging by erecting a wall between the two. Use black and white as your primary colours, and accent with other neutrals like tan, grey, and beige. For a more organic feel, grow some greenery. Choose slim, multipurpose tables over big, impractical ones.
TV Wall Decorations for the Hall
Make the TV wall unit the focal point of the room by adding some decorative flourishes. You can ditch the wallpaper and old-school TV stands. Go for this eye-catching TV stand made of wood and gypsum instead. Put your pictures and collectibles on display in the remaining room.
Conclusion
Hope you enjoyed reading on modern hall interior design concepts. You can build upon these suggestions by incorporating your own unique twist. Having a clear goal in mind is the starting point for each successful home design project. That way, form and function can coexist harmoniously!
How can Homes4India help you design a beautiful hall ?
So, the next time you are looking for design ideas for your home, look no further. Schedule an online consultation with Homes4India today.
Have any thoughts or suggestions you'd like to share with us? We're all ears! Drop us a line at enquiry@homes4india
More Blogs on Interior Designs
Best Open Kitchen Design Ideas in India 2023
Top 7 Ideas for Interior Door Design 2023
Trendy Main Hall Modern TV Unit Design in 2023
Image source: freepik.com