Transform Your Outdoor Oasis: 7 Exceptional Shade Solutions for Your Balcony
A balcony serves as a sanctuary, a personal slice of outdoor space that lets you bask in the natural world from the comfort of your home. However, with increasing urbanization and climatic fluctuations, creating a usable balcony space has its challenges. The key to maximizing your balcony's potential lies in the smart integration of shade solutions. Whether it's the relentless summer sun or unexpected rain showers, a well-designed shading structure can significantly enhance your balcony experience. We invite you to explore seven cutting-edge ideas that promise to revolutionize your balcony into a stylish, functional, and comfortable living space.
Harness the Elegance of Pergolas
Pergolas offer a chic, architectural element that adds character to any balcony. Typically constructed of wood, metal, or vinyl, pergolas serve as a stunning focal point. When draped with vines or climbing plants, they can create a serene green canopy that offers both shade and aesthetic appeal.
Opt for Retractable Awnings
Retractable awnings offer a convenient and practical approach to balcony shade solutions. Operated either manually or via a remote control, these awnings can be extended or retracted based on your needs. Ideal for spaces where flexibility is key, they provide efficient sun protection without sacrificing your view.
Try Sail Shades for a Modern Touch
For those who appreciate contemporary design, sail shades offer a sleek and stylish shading option. Made from durable, weather-resistant fabric, they are suspended at angles to create a striking geometric aesthetic. Aside from their visual appeal, sail shades are highly functional, offering optimum UV protection.
Explore the Versatility of Bamboo Blinds
Bamboo blinds bring a touch of rustic charm to any outdoor setting. Besides being ecologically sustainable, these blinds are also surprisingly resilient against weather elements. Easy to roll up or down, they offer quick adaptability to changing weather conditions, making your balcony a year-round retreat.
Experience the Timeless Appeal of Wooden Slats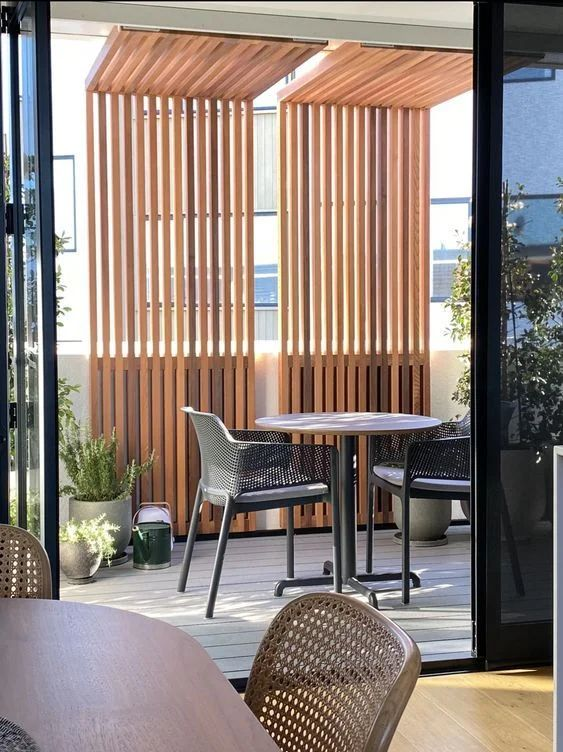 If you're looking for an option that transcends trends, consider installing wooden slats. These classic elements offer both beauty and practicality. While blocking out the sun, they allow for sufficient air circulation, making them a go-to choice for those looking for both comfort and style.
Introduce Multi-Functional Canopies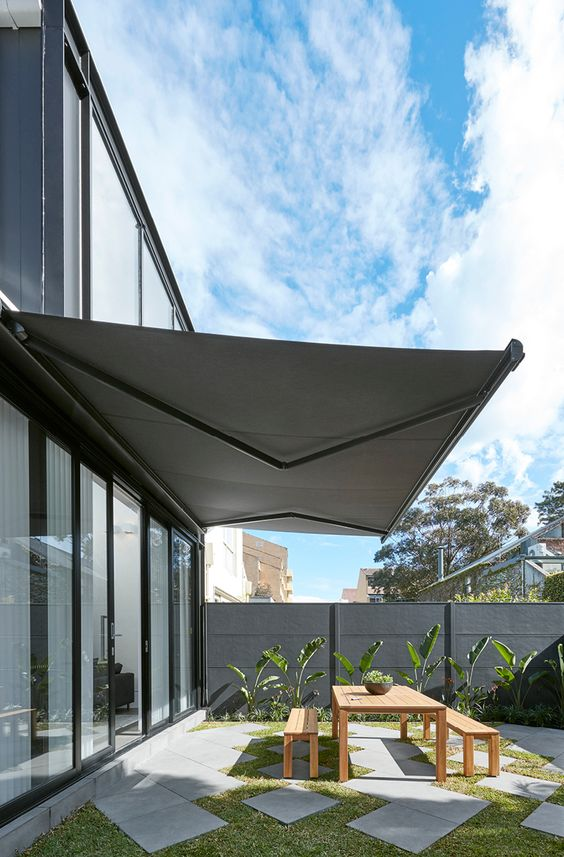 Canopies offer a versatile approach to balcony shading, suitable for both small and large spaces. They can be temporary or permanent installations, often featuring retractable options. In addition to sun protection, they provide an excellent backdrop for light fixtures, enhancing your balcony's ambience.
Consider the Durability of Metal Louvers
For those looking for a robust, long-lasting solution, metal louvers are worth considering. Designed to withstand harsh weather conditions, these structures offer excellent light control. You can easily adjust the angle of the louvers to manage the amount of sunlight entering your balcony.
Conclusion: Tailoring Your Perfect Outdoor Sanctuary
Creating the perfect balcony space is an art form that balances design, functionality, and comfort. The right shade solution not only makes your outdoor area usable but also contributes to the overall aesthetic of your home. In choosing a shading structure, consider factors like durability, flexibility, and visual appeal to make an informed decision that you'll enjoy for years to come.
Why Choose Homes4India for Interior Designs
When it comes to interior and exterior design solutions, Homes4India is a name you can trust. With years of experience and a portfolio that speaks for itself, we offer an unparalleled blend of quality and innovation. Our team is dedicated to transforming your space into a dream come true. So why settle for less when you can have the best?
Contact Homes4India today to begin your journey toward an extraordinary living space.
FAQs on Shade Solutions for Your Balcony
What materials are best for pergolas?
Wood, metal, and vinyl are popular choices, each offering its unique set of advantages and aesthetic appeal.
Are retractable awnings weather-resistant?
Yes, most retractable awnings are designed with weather-resistant materials that can withstand various climatic conditions.
How do sail shades provide UV protection?
Sail shades are made from specialized fabric that blocks harmful UV rays while allowing sufficient light and air to pass through.
Are bamboo blinds difficult to maintain?
No, bamboo blinds are generally low maintenance, requiring only occasional cleaning to keep them in prime condition.
Can metal louvers be customized?
Absolutely, metal louvers can be tailored to fit your specific balcony dimensions and design preferences.
More Blogs on Interior Designs
Unveiling the Art of Bedroom Wall Decor: 7 Ingenious Ways to Add Personality to Your Private Oasis
The Comprehensive Guide to False Ceilings: 7 Unbeatable Advantages for Contemporary Homes
All pic courtesy: freepik.com, wikipedia & pinterest.com