Unveiling the Top 6 False Ceiling Materials: A Comprehensive Guide to Elevate Your Interiors
When it comes to adding a touch of elegance and function to your interiors, a false ceiling is an undisputed champion. The power of a false ceiling extends beyond mere aesthetics; it serves multiple practical purposes including thermal insulation, sound absorption, and even fire resistance. The ultimate success of your ceiling, however, hinges on your choice of material. The market is flooded with various options, each with its own unique advantages and limitations. At Homes4India, we understand how overwhelming it can be to select the perfect material for your false ceiling. In this article, we present a thorough breakdown of the six most popular false ceiling materials, enabling you to make an informed choice.
Gypsum Ceilings: The Classic Choice
Gypsum is a highly favored material for false ceilings due to its versatility, affordability, and ease of installation. Known for its excellent thermal and acoustic properties, gypsum ceilings are often used in both commercial and residential buildings. The material consists of calcium sulfate dehydrate and can be easily molded into various shapes and designs, granting you the creative freedom to implement custom designs. Its smooth finish provides an elegant aesthetic while ensuring durability. Moreover, gypsum ceilings are easy to repair in case of damage. It's an ideal choice if you're aiming for a mix of functionality and elegance.
Plaster of Paris: Versatility Meets Aesthetic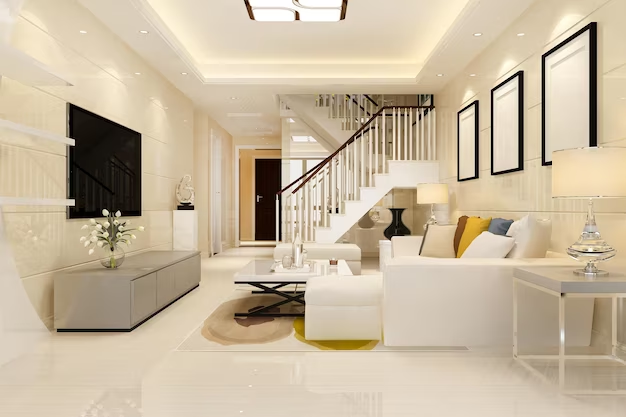 Second, only to gypsum in popularity, Plaster of Paris (PoP) offers an unparalleled combination of versatility and aesthetic appeal. It's a quick-setting material that allows for intricate designs and detailing. PoP is often considered the go-to material for custom-designed, artistic false ceilings. In addition to its design flexibility, PoP offers excellent thermal insulation, making it a cost-effective choice in the long run.
Metal Ceilings: Durability Defined
Metal ceilings stand out for their sheer resilience and durability. Typically crafted from aluminum or galvanized iron, these ceilings are ideal for commercial spaces that require a robust and long-lasting solution. The material is resistant to moisture, mold, and even fire, making it a practical choice for environments with stringent safety requirements.
Wood Ceilings: The Allure of Nature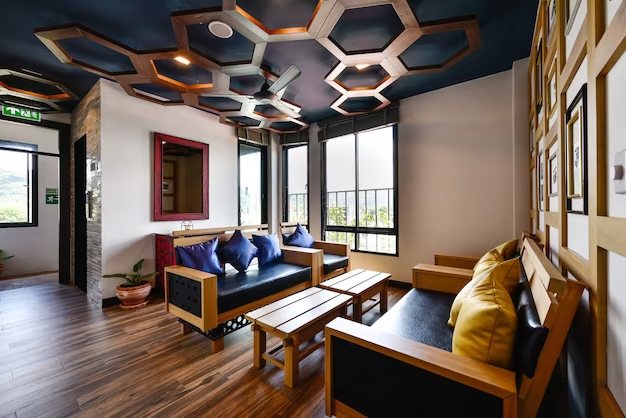 Wooden ceilings are synonymous with warmth and charm. Despite being on the pricier end, the unparalleled aesthetic and feeling of natural warmth make wood a preferred choice for many. Available in a range of finishes from oak to mahogany, wooden ceilings are often used in resorts and luxury homes where ambiance is paramount.
Fibre Ceilings: Lightweight Yet Effective
For those looking for a budget-friendly yet effective option, fibre ceilings hit the mark. Made from natural or synthetic mineral fibres, these ceilings are lightweight, easy to install, and come in a variety of textures and colors. Though less durable than metal or gypsum, fibre ceilings are still a competent choice for light-duty environments.
PVC Ceilings: The Future of Waterproofing
Polyvinyl chloride (PVC) is rapidly gaining traction as a material for false ceilings. Its primary advantage is its resistance to moisture, making it an excellent choice for bathrooms, kitchens, and other wet areas. Lightweight and easy to install, PVC panels come in an array of designs and colors, offering both functionality and aesthetic value.
Conclusion: Making the Right Choice
Choosing the correct material for your false ceiling is not merely a matter of personal preference; it's a critical decision that impacts both the aesthetics and functionality of your space. Each material we've discussed offers unique benefits, and your choice should align with the specific needs and constraints of your project. At Homes4India, we leverage our deep industry knowledge and technical expertise to guide you through this crucial process, ensuring that your ceiling is not just a design element, but a lasting investment.
Why Choose Homes4India for Interior Designs
At Homes4India, we go beyond selling materials or offering templated solutions. We delve deep into your specific requirements, aesthetic preferences, and budget constraints to deliver tailor-made solutions that are both visually stunning and functionally robust.
Our team of experienced designers and technicians are equipped with the latest tools and technologies to bring your vision to life. We pride ourselves on our commitment to quality, attention to detail, and unparalleled customer service.
Don't settle for anything less than the extraordinary. Contact us today and elevate your interiors to a new realm of sophistication.
Frequently Asked Questions on False Ceilings
What are the thermal properties of gypsum ceilings?
Gypsum is known for its excellent thermal insulation, making it an ideal choice for regulating indoor temperatures.

How durable are metal ceilings?
Metal ceilings are exceptionally durable and can last for decades with minimal maintenance, making them a long-term investment.

Are PVC ceilings environmentally friendly?
While PVC is not as eco-friendly as other materials, many manufacturers are now offering recycled or sustainable versions.

Do wood ceilings require special maintenance?
Wooden ceilings require regular polishing and sealing to maintain their natural luster and prevent moisture damage.

Which ceiling material is the quickest to install?
Fiber and PVC ceilings are generally quicker to install due to their lightweight nature and modular design.

More Blogs on Interior Designs
Elevate Your Living Space with These Trendy Bedroom Mirror Designs
Unveiling Stunning Ground Floor House Designs to Transform Your Living Space
All pic courtesy: freepik.com, wikipedia & pinterest.com