Beautiful Bedroom Wallpaper Design Ideas
Our bedrooms serve as our haven, a place where we can unwind and a place where we can feel at home. Bedroom wallpaper ideas are a fantastic way to inject style and personality into the space in a way that is uniquely you, whether you choose to do so with daring bedroom color schemes, a striking pattern, or some combination of the two.
Bedroom wallpaper ideas are plentiful, and while the "feature wall" is still popular, there are many other ways to incorporate wallpaper into a bedroom design scheme. From chic mash-ups of patterns to accent wallpapers in niches and nooks to full-on wallpaper covering every square inch of wall space and sometimes even the ceiling.
Wallpaper can be the cherry on top of a room's design when it comes to making it look interesting. Here are 15 bedroom wallpaper designs in 2023 recommended by Homes4India design team
1. Set a picture rail above the wallpaper
If the full-wall paper's effect is too much for you, try covering only a portion of the wall. Consider a pattern or color to add personality without taking over the room.
2. Use a splash of the tropics to make a statement.
The bed should be the focal point of the room if you want to make an impression. One simple solution is to use wallpaper to create a feature wall behind the bed and then carry that color scheme through the room with coordinating bedding, pillows, and other soft furnishings.
3. Collage is worth a shot
Mix and match patterned and plain wallpapers to create a one-of-a-kind patchwork effect on a single wall. To achieve a luxurious appearance without breaking the bank, all you need to do is hang a few rolls of wallpaper, or even use scraps from a previous job. If you don't have any plain or small-scale wallpaper, you can use panels of lining paper painted in contrasting colors to fill in the blank spaces.
Using patterns in subdued tones creates a stylish and highly effective patchwork of wallpapers, but if you're looking for something more daring, try using bright colors and contrasting patterns.
Putting up a small shelf above the bed is the finishing touch to a wallpapered room, as it provides a place to show off artwork or collectibles. If you're tired of the current arrangement, you can simply swap out the books and throw the prints on the wall.
4. Make a statement with oversized florals.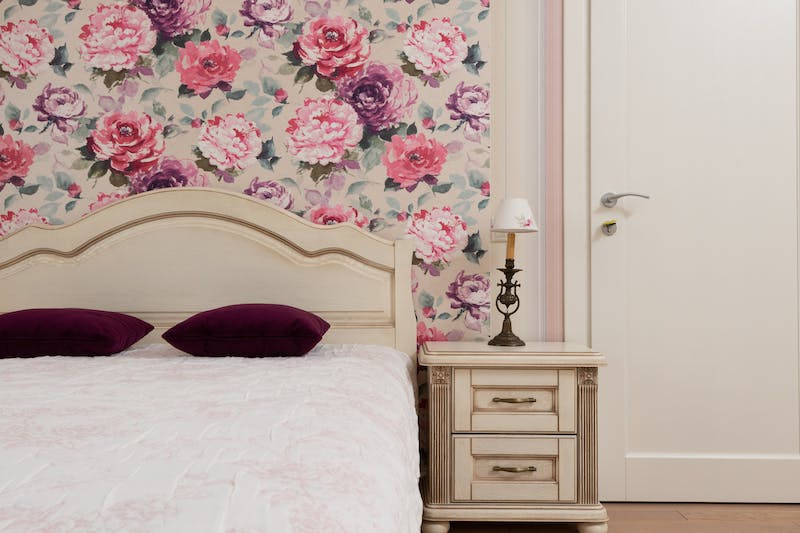 One way to incorporate pattern into your bedroom is with a mural that spans the entire width of one wall. If you have a favorite photo and would like to use it in life-size on a wall, you can either buy prefabricated mural panels or have one made specifically for you.
For a stylish, unified look, choose furniture and bedding in colors that play off the hues in your mural. For a unified look, choose the background color and one or two secondary colors and use only those.
5. Arrange window frames to complement the wall color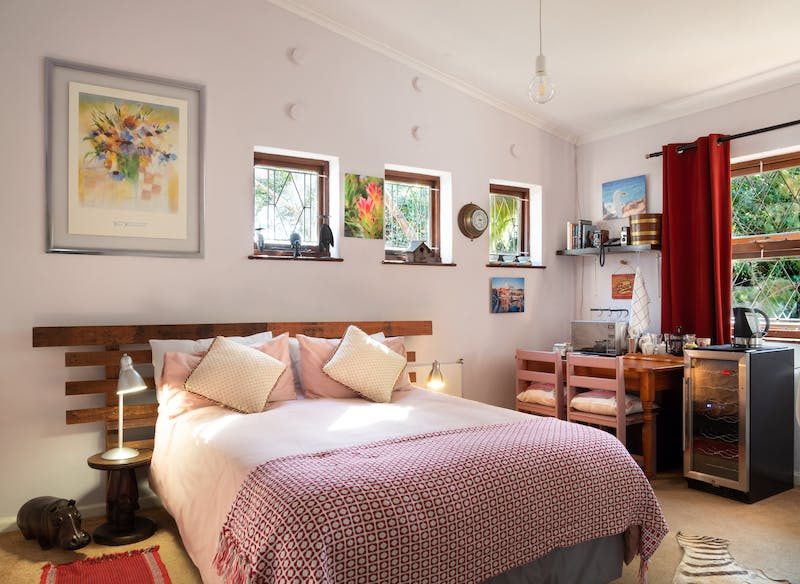 If you're feeling particularly bold, go for this all-out design scheme, which features a continuous color and pattern on coordinating wallpaper and window blinds. If you want to give it a try, but are worried that covering an entire wall with it would be too much, consider using it as the backdrop for a window seat area with a stack of matching cushions.
If an all-over pattern is too much for your taste, you can achieve a similar look by painting a wall a solid color, or by hanging semi-plain wallpaper and coordinating blind fabric. When a wall and a window are combined, it creates the illusion of more space in a small room.
6. Attract interest behind a headboard
If you want your bed to be the focal point of the room, you should consider making a feature wall out of the wall behind the headboard. Using print in this way to draw attention in a certain direction and make a small bedroom look bigger is a smart way to decorate.
Monochrome wallpaper is a great way to bring harmony to a room with a mix of different colored furniture pieces.
7. Apply ceiling-mounted wallpaper
It can be challenging to decorate loft bedrooms with low ceilings. By creating a dividing line and drawing attention to the lack of height, painting the ceiling a color that contrasts with the walls can make the ceiling appear lower.
Using wallpaper or paint to create a continuous color on the walls and ceiling, so that the eye is drawn upwards, is a clever solution to this problem. And because there will be no obstruction to the line of sight, the space will have a greater sense of height.
8. Make a decorative accent wall out of art
This is a great idea for those who want to decorate their homes but are on a strict budget because it requires very little paper but has a big visual impact. Choose a square or rectangle-shaped area of wall, like above the bed or between closets, and put a panel of wallpaper on it that is the right size. This is an inexpensive way to decorate because you only need one roll of wallpaper to get the look you want.
9. Make it all black and white.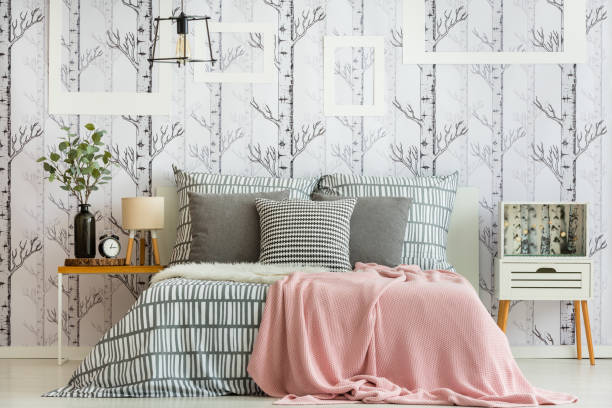 When it comes to making a bold design statement with wallpaper, black and white is always a safe bet.
In a bedroom, a feature wall with a monochromatic print can be paired with pops of color from pillows, blankets, and accent furniture. It's a great way to add pattern without going overboard with color.
10. Use metallic wallpaper to make it reflective.
Adding a pattern is an excellent way of capture attention, and doing so in a metallic finish is an outstanding method of grabbing even more attention. Metallic wallpaper, with its glistening sheen, can bring out the best in patterned surfaces. Wallpaper with reflective patterns is great for smaller bedrooms because it helps to spread natural light throughout the space.
Mix metallic wallpaper patterns with mirror furniture and metal bedside lamps to make a glitzy room.
11. Play around with a pattern
By using a wallpaper with a pattern that repeats and a fabric for the headboard in smaller versions of the same colors, you can make it look like the graphics are layered.
In addition to making the room look nice, the repeated pattern on the wallpaper softens the overall color scheme. Choose understated accents like glass table lamps and white bed sheets to keep the focus on the main event.
12. Keep the design basic
You don't have to go all out with pattern if you choose wallpaper. A fine print can sometimes be all that's needed to pique interest without detracting from the overall scheme. Miniature splashes of color dot this otherwise minimalist black-and-white pinboard design.
If you're hesitant to settle on a specific color scheme for your bedroom because you're afraid of being stuck with it, this is a great option because you can easily and affordably change the look by switching out your accessories.
13. Use striped wallpaper to create a rustic look.
Stripes are back in style, so go for that classic rustic look. Keep in mind that the paper's stripes will affect the visual perception of the room's dimensions; vertical stripes will make the ceiling seem higher, while horizontal stripes will create the illusion of a wider space. Bedroom accessories like matching bed linen, white washed baskets, and wooden details are a great way to spruce up the space.
14. Pinstripe your Walls
A perfect pinstripe is a great base for a classy bedroom design because it gives off a sense of cleanliness and order. A palette of smart city grays and buttoned details can add to the tailored look, and a vertical striped pattern can be hung behind the bed to make a feature wall.
The look could get stuffy without the addition of these animal-print plates and a statement lamp. Pile on plush pillows in coordinating patterns to finish off the bed and make it more inviting.
15. Wood paneling wallpapers are warmly welcomed
Wood panel effect wallpaper is a great way to bring nature indoors and make your bedroom feel more like a retreat. Create a faux architectural detail and draw attention to your walls without breaking the bank by using this paper style instead of real wood paneling.
Keep rocking the woodland look by incorporating chunky knit throws with bright pops of color.
FAQ on Bedroom Wallpaper
What is the best way to try out a new wallpaper in my bedroom?
If you want to make a statement with wallpaper in any room, it's a good idea to pick up a sample of the pattern first. If you want to make sure the color and scale of the pattern on your target wall are just right, cut a large sample of the design and test it out. Depending on the time of day and the lighting in the room, the color may appear different each time you look at it.
What's the most suitable wallpaper for a bedroom?
Bedroom wallpaper ideas are no more or less practical than those for a living room or any other typical room in the house. If the room is humid, for example, when deciding on a bathroom wallpaper idea, then a different quality or type of paper is required. Selecting wallpaper for a bedroom is purely subjective.
If you want to use wallpaper in your bedroom without making the room feel claustrophobic, we recommend limiting yourself to just one accent wall. You can be more daring with the pattern if this is the wall your bed is up against because it won't be distracting when you're trying to get ready for sleep.
Can wallpaper make a small bedroom appear larger?
The right wallpaper design, like carefully chosen bedroom paint colors, can do wonders for making the most of the available square footage. If your bedroom is on the smaller side, you may want to avoid using busy patterns. Using it on just one wall can make the room feel more cohesive and give it a sense of purpose while also visually isolating that wall from the other painted walls. Bedrooms can be made to feel more spacious through the use of clever storage solutions.
How Can Homes for India Help You with Drawing Room Interiors ?
Homes4India was founded in 1998 with the intention of improving the visual appeal of residential homes and office spaces in India and overseas.
The fact that our services are still well-liked after serving more than 5,000 clients across 14 countries and completing over 75,000 projects is a major factor in our popularity.
Here are some of the benefits you can expect as you work with Homes4India
Homes4India provides an extensive variety of interior design services.
We have customers all over the country and serve them in cities like Kolkata, Thane, Mumbai, Navi Mumbai, Delhi, Chennai, and Bengaluru.
We provide a variety of ancillary services in addition to interior design, such as the sale of furniture, home decor, and the assembly of said furniture in the buyer's very own home.
Look no further than Homes4India, where we have a team of talented designers to make your home or office space just how you've always dreamed it should be.
Please contact us today to request a callback from our team.
More Blogs on Interior Designs
Modular Kitchen Design Ideas for Indian Homes in 2023
Small Bedroom Cupboard Designs in 2023