This article has everything a parent needs to know about getting a desk and chairs for their child's room so they can learn and have fun. When it comes to household efficiency, the kids' room ranks high. A child's bedroom deserves nothing less than your full focus. 
Your kid's study table and chairs are probably the most important furniture in this room. The right set can help them focus, straighten up their bodies, and quiet their racing thoughts, all of which contribute to greater productivity and efficiency. 
When shopping for a table and chairs for your child, look for ones that are both functional and fun. Its purpose is to inspire your kid to spend as much time as possible there, whether it's to learn or play, and to develop their imagination. 
 Read on to learn more.
#1 A Contemporary Kid's Table and Chairs Set with Built-In Shelves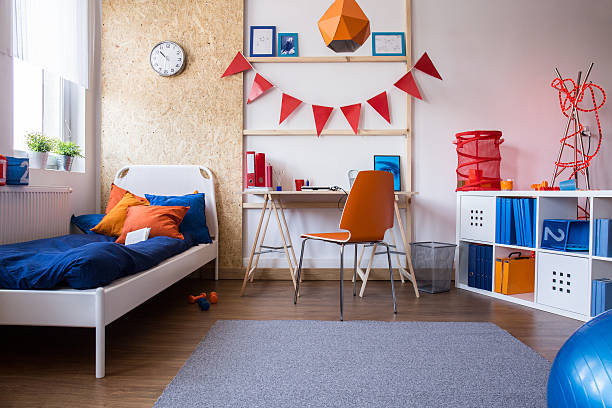 Toys, books, and school supplies can quickly pile up in a child's room, so storage is important. It's important to set a good example of orderliness and cleanliness from an early age, and a tidy room can help with that.
This child's study table and chairs should feature a bright yellow and blue color scheme, giving off an air of cheerful productivity and providing plenty of room for books, supplies, and other school supplies.
The study desk should have plenty of room for books and a pull-out keyboard tray, and the wall-mounted storage should feature a mix of open and closed cabinets for displaying toys and storing supplies.
Your children's backs will thank you for purchasing chairs with high backs so they can study in comfort. Provide your children with hours of entertainment with an indoor climbing wall.
#2 Kid-Friendly Space-Saving Table and Chair Set to Fit Any Decor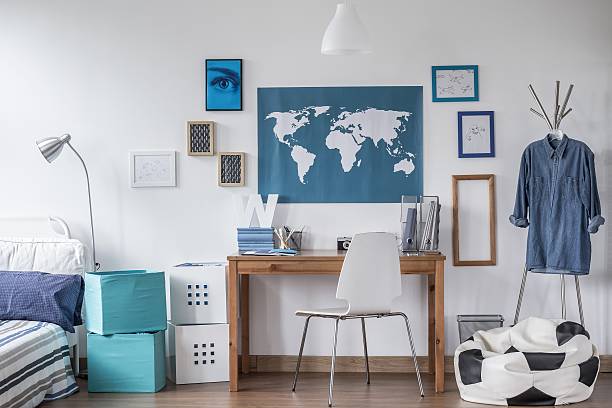 It's possible to use two colors when designing this room for a child, and it's full of interesting and amusing features that will keep your child entertained.
Putting together a chic ledge between two cabinets can serve as a functional desk space for studying. Pair it with a sleek wooden chair to create a comfortable study space.
The tall storage cabinets provide extra space for storing linens, bedding, and clothing. Kids can display their toys and artifacts on the fun wall-mounted shelves above their desk and chairs.
Your child will enjoy the bright and cheery atmosphere created by the tent bed, the poufs, and the stuffed toys. 
#3 Kids' Wooden Desk and Chair in a Jungle-Themed Room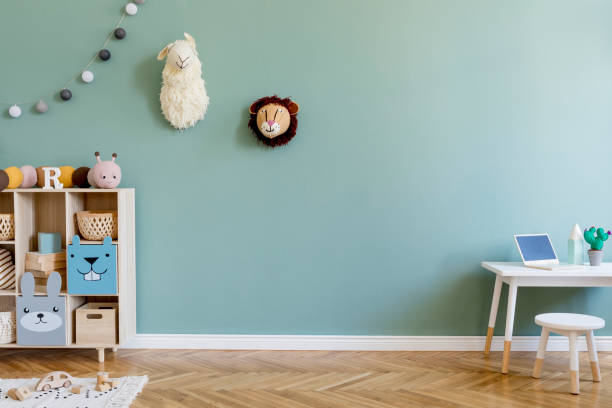 Bring joy and excitement to your child's face and eyes with this jungle-themed playroom. Your kid will be over the moon with their new bunk bed, forest wallpaper, and fake grass floor.
A kid-sized study table and chair made from weathered wood will complement the existing decor. An armoire sits beneath the desk, and a tall cabinet with doors and shelves stands to one side. 
This provides a lot of room for you to neatly store your kids' school supplies and reading materials.
For a more natural feel, keep jute upholstery on our chairs. A hammock chair and an animal-themed floor cushion are two more options for seating and unique accents.
#4 Focus without interruptions with this kid-friendly study table and chairs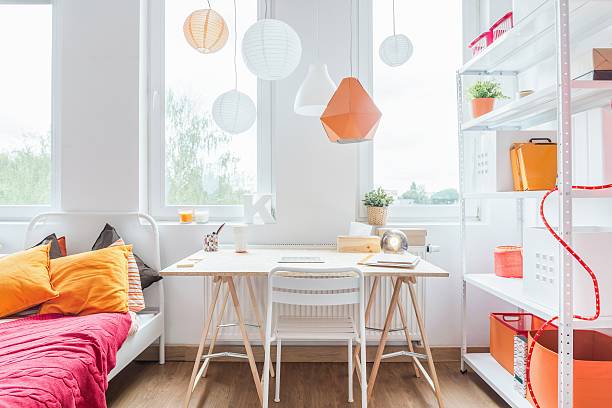 Choose a longer study desk and a bucket chair with cushion padding for your teen's study space, where they can focus and learn for extended periods of time.
Make sure to keep a white study desk and a chest of handleless drawers for storing and organizing your books, papers, and other study materials.
A rack that can be attached to the wall gives you more space to show off interesting things. It's important to be aware of your surroundings, so you can avoid glare by selecting a dark accent wall. With this, your child will be better able to concentrate.
Make sure to include a storage bench near the window so that they can take short study breaks while taking in the scenery outside. 
#5 Fun-Filled Wooden Children's Study Desk and Chair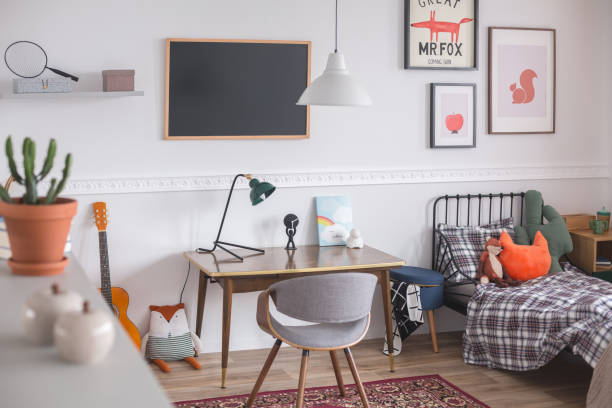 Homes with wood accents are cozier and more inviting.  A kid's room can benefit from the addition of a light wood study table and a bucket chair, both of which are cozy spots for reading.
The simple, sophisticated style is a welcome addition to the room. This floor plan is great for a cozy and useful city apartment because it uses light and airy materials, like a color scheme with a lot of blue and green, bunk beds, and clever storage spaces.
To keep them entertained and revitalised throughout the day, place a beautiful swing chair by the window.
Here's a  Bonus design tip to make the most for your kid's personal space
#6 An efficient and comfortable layout for the table and chairs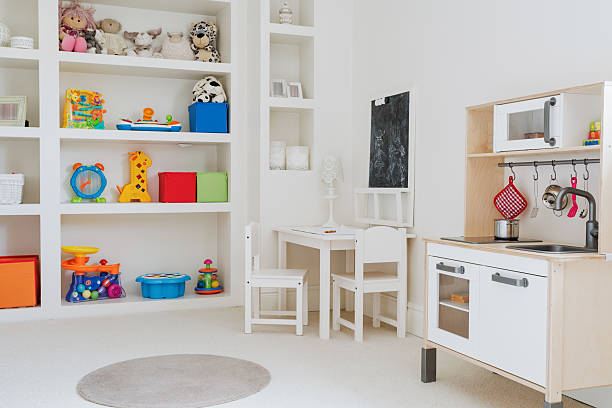 Keeping children's attention and getting them to sit still for any length of time can feel like an enormous feat. So, selecting a suitable children's study table and chairs is crucial.
If you want your child's bedroom to be a place of joy and excitement, you should decorate it with fun and engaging elements. 
Interested in hearing more creative ideas for decorating your child's room ? our Design Experts at Homes4India are available for a callback request.
If you liked reading about children's study furniture, you might also like reading about kitchen and living room design, as well as many other design ideas that can be found in the Blogs section of our website.
Further Reading
How to make your room great for a grand living ?
7 Things to Know before Hiring a Good Interior Designer
5 Things to Consider When Selecting a Floor Plan